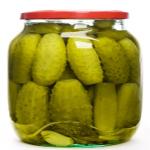 Protest Over Offensive Custom Food Labels
Gedney, the 132-year-old pickle-maker, has decided to change custom food labels on a popular product after some harsh consumer feedback. The Star Tribune reported "Midget" labels, on a pickle brand produced by Gedney, caught the attention of Chelley Martinka, who started a blog and created a YouTube video to alert other consumers to the matter, hoping the movement would force a name change.
'Midget' Food Product Labels Are Offensive Marti​nka​, a Rhode Island mom, had personal reasons for taking offense to the food product labels: She is the mother of a 10-month-old baby girl who has been diagnosed with dwarfism. After her baby was born, Martinka recalls walking down the grocery store aisle and seeing Cain's "midget" pickles, which she found to be very offensive, the Star Tribune reported. The outcry from Martinka and other families dealing with dwarfism were heard loud and clear by the company.
Martinka had previously called Gedney's customer service in December to complain and asked the service representative to have the company's executives watch her YouTube video. Gedney's CEO, Barry Spector, made a personal phone call to Martinka on February 7 to tell her that the company would be changing the language on the food labels. However, the company emailed Martinka recently stating that while new label designs are underway, there's still six months worth of product of inventory left, cited the source.
Request your FREE instant quote today.