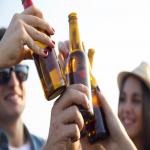 Sometimes Packaging Is the Creative Design
When marketing your product, a key challenge always is to make your brand memorable—particularly in crowded marketplaces that can obscure all but the most outstanding looks. Budweiser has scored a bullseye with its latest packaging design—which is really more engineering than anything else.
The iconic bowtie logo, used since 1956, has been memorialized into a crimped can that bows in the middle. It won't take a rocket scientist to figure out that the new package ties to the Budweiser brand.
It's a stroke of genius in an advertising industry that too often creates expensive, elaborate messaging that few associate with the product. How many times have you been asked about a particular commercial, only to respond that you vividly remember everything except for the brand being advertised?
Geico created the gecko to indelibly drive product recognition. Now Budweiser has done the same with its bowtie package. How you can achieve the same feat in your marketplace, understanding that most don't have a Budweiser-sized budget or long-lived iconic image to reinforce the effort?
1. Study your shape. As Budweiser has so dramatically demonstrated, you don't have to stick with the same product container shape as everyone else. While its effort required years of research and refinement, and actually uses double the aluminum of traditional beer cans, you don't have to necessarily spend a fortune to make a splash. Review the latest and greatest in container packaging and work with your graphic design/engineering team to create some shapes. This can be fun and doesn't obligate you to go into production.
2. Leverage your label. In tandem with container shape selection, look at label possibilities. While the container itself may not be that unusual, combined with an intriguing label it can take on a life of its own. Play with different label materials, colors, shapes and special effects to see what may be possible. It doesn't always have to be complicated. Think about the simplicity of the Apple logo.
3. Create your "con"-emoticon, icon, some type of memorable mascot, or inviting image that will make it hard to forget your brand. Is there anyone who doesn't associate the gecko with Geico? They famously took an animal name that sounded very much like their corporate name, and voila! Where are there similar opportunities with your brand, company name, and the like?
To get the creative juices flowing, think out of the box a bit. Chrysler, in its desire to be viewed as reinventing itself in a more glamorous light, could consider the chrysalis, the cocoon from which the caterpillar emerges as a butterfly. While the term is somewhat esoteric, the fact that the two words share their first five letters opens up an immediate opportunity for brand identification. And the visuals of a beautiful image emerging from its cocoon bring to mind many design possibilities.
4. Put it all together. With all this creative output on display, decide what's feasible in light of logistics, budgets and other pragmatic considerations. You may discover that the greatest, most memorable packaging/design idea just won't cut it in your real world environment. Or, you may be pleasantly surprised to learn that your most outlandish design is in fact very doable.
And persevere. If, for example, that incredibly appealing label won't work with your machine application protocols, keep working with concepts to see what may be more compatible.
Request your FREE instant quote today.