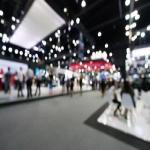 Trade shows are concentrated bursts of marketing activity. When your company sets up a booth at one of these events, you have to think up strategies that will draw maximum attention in the show's limited duration. Giveaways are a valuable part of such an approach, as these items can travel home with booth visitors and keep your brand fixed in their mind long after the convention is over.
When you're searching for economical but effective items to hand out, consider custom bumper stickers with your brand's imagery emblazoned on them.
A Versatile Promotional Product
The most useful trait of bumper stickers as a trade show giveaway is the fact that they're deceptively versatile. Though they have "bumper" in their name, these custom stickers can go on any hard surface, and if your design is visually interesting, it's easy to imagine recipients sticking them to laptops, desks and more. Handing out bumper stickers to interested  visitors can be a worthwhile and far-reaching trade show promotion strategy.
Bumper stickers, designed to stay affixed to cars for years, are made from tough materials. Thus, no matter what surface recipients attach their trade show stickers to, your brand logo will stay visible for years. If your company's branding is well-known and compelling on its own, it may appear alone. If you're just getting yourself established, it could pay to pair the logo with another promotional element or a fun motto people will feel excited about displaying.
Getting the Right Match
Working with the right partner is an essential step in designing effective promotional stickers. If bumper stickers are made with low-quality materials or print processes, they may fade or peel away relatively quickly, hampering their ability to get your brand's message across.
Lightning Labels can deliver the high-quality trade show stickers for your company's next event marketing effort. Boasting quick turnaround times, Lightning Labels can deliver the stickers you need in a matter of days, not weeks or months.
Request your FREE instant quote today.