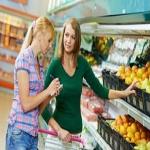 People are more interested than ever in eating foods that aren't just tasty, but also wholesome and nutritionally valuable. If you make healthy food products, highlighting their positive qualities via custom nutrition labels could be a helpful marketing tactic, and there's no better time to do so than National Nutrition Month.
Every March, consumers and companies focus on eating well, and the month is a great reminder to check whether your products' branding emphasizes their nutritional value. If not, it's time for new custom food labels that fulfill the public's desire and need for delicious and healthy meals.
Emphasize the Positive
There are numerous different attributes that might make health-conscious customers pick up a product. If your items contain a few simple ingredients, you can use that fact as a selling point. Furthermore, products that contain vitamins or nutrients can be more appealing when wrapped in nutritional labels that foreground their healthful properties. You can even include recipes or serving suggestions to help turn single items into focal points of tasty meals.
The one thing you can't do with your food and beverage labels is overstep the various rules in place. Some words have regulated definitions, and these occasionally change. Health-focused marketing and packaging strategies in National Nutrition Month and beyond must be designed with legal constrains in mind, to make sure fines and penalties don't offset the value of the promotions.
Use High-Quality Nutrition Labels
Changing labels to emphasize healthy ingredients and nutritional value is a great opportunity to reassess your entire packaging strategy. Working with a labeling partner that can deliver crisp, high-resolution imagery is one way to make your items stand out on store shelves. When you work with Lightning Labels for your customized food labels, you get this level of detail, combined with fast turnaround times, responsive customer service and a huge variety of materials and finishes to choose from.
Request your FREE instant quote today.