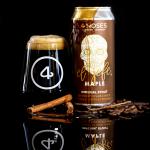 4 Noses Brewery is known for great taste and inquiring noses! Its Perfect Drift was recently ranked 47th best worldwide by Beer Advocate in the German Pilsner category.
The family-owned and operated craft brewery and tasting room got its start during a 2008 family celebration in Ireland. Founder Tommy Bibliowicz notes, "There we were, gathered around the dark pub table, inhaling the rich smell of our dry Guinness beers, all four of our large noses in action. It wasn't until our close friend observed the sight of our busy schnozzes that we were struck with an idea: to bring our love of and passion for beer to the beautiful town of Broomfield, Colorado under the brand of our signature feature. The Four Noses Brewing Company was conceived."
Tommy adds, "And Ireland was just the start. As we traveled around the world meeting other brewers and enjoying a variety of delicious beers, we discovered a passion for crafting our own unique flavors ultimately derived from our common desire to brew the beers we want to drink. These beers evolve through constant experimentation to create increasingly higher levels of quality blond ales, spicy stouts, dark porters, and hoppy concoctions—most notably our 'rose' batches, the Seasonable IPA's."
Spokesperson Dustin Ramey points out that staying nimble in all areas of the operation, from labels and packaging to marketing, has been a key to success.
Other keys to success, Dustin notes, include a great staff, beautiful taproom, well-oiled packaging team, extremely passionate brewers, hungry sales team and distinctive, impactful branding/packaging. 4 Noses also possesses a collaborative spirit in the industry. Notes Dustin, "We do not look at other breweries as competition."
That collaborative, can-do spirit has served 4 Noses well through the pandemic. Noting that they've been "between a rock and a global pandemic," Dustin points out that an advertising reduction opened up opportunities to be more experimental on all social media platforms—with positive outcomes.
Relationship with Lightning Labels, the food and beverage digital printing specialist
Dustin emphasizes that the labeling process has been a "big part of 4 Noses. We are releasing a lot of new beers with art playing a major role. Lightning Labels has been steadfast in the things that we need. Quality, timing, and customer service are awesome." He says, "From day one we used a unique process featuring printed beer cans with clear labels. This allowed us to produce almost 25 different types of beer and release them to the market to test out. In turn, this gave consumers a role in picking out the 4 Noses core lineup."
Lightning Labels account manager Ryan Tennant points out that small-quantity options, fast turnaround and affordability of digital label printing versus screen printing enable 4 Noses to be flexible with trying out new beers cost-effectively and efficiently.
Request your FREE instant quote today.