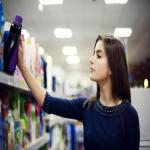 Your product packaging is the public face of your brand. When it's time for customers to decide between your offerings and a competitor's items, the label is some of the last, most critical input they receive.
This essential role in selling your products means you should take label design seriously, going beyond logos and imagery to maximize the label's appeal. Every element of a custom label, from its material and finish to its size and shape, matters.
Why Buy Custom Labels for Your Brand?
Product labels give you a direct way to share information with your customers. By designing and buying custom labels, you're choosing which images, sensations and facts people associate with your products.
Do you envision your brand as fun and lighthearted, or perhaps serious and reliable? Are you interested in connecting your products with your region? Would you like to create a feeling of elegance, wholesome simplicity or anything in between? The choices you make regarding your label design will explain your brand story to customers.
How Can You Craft a Perfect Custom Label?
The ideal custom label will differ for every business because no two companies or products are exactly the same. By customizing multiple variables, you can create a unified labeling aesthetic that matches your overall branding and sends a specific message to customers.
What are these variables? They include:
Custom label size and shape: You don't have to pick the most straightforward or simple size and shape for your product labels. With die cutting, you can create smaller labels with a creative custom shape, allowing the packaging or product underneath to show through. This use of a small custom size can be an especially impactful effect when selling distinctively colored products in transparent containers.
Label material and finishing treatment: The material and finish you use for your labels play a large role in determining how customers perceive your products. For a rustic look, you can choose a recycled paper material with a rough, natural finish. A colorful or metallic matte or gloss finish, on the other hand, can make items feel elegant and modern.
Product label graphic design: Your choice of graphics says a great deal about your brand. From colorful illustrations to old-fashioned text art to photos of local landmarks, you get to decide what people think about when they encounter your goods in a store. Added information, such as brand history or recipe ideas, can also provide useful context.
Advanced label features: Industrial labels don't have to be straightforward. You can add extra space with extended content labels that peel away to reveal more surface area, or allow customers to view augmented reality content with scannable QR codes. Features such as these may help your goods stand out in a crowded field.
Once you've found a label design option that works for your brand, you can extend it across your whole line of products, with alterations in imagery or color scheme to help customers differentiate your offerings. Of course, you shouldn't be afraid to change things up, either, whether it's time for a redesign or a seasonal promotion.
What Makes Lightning Labels The Ideal Partner To Buy Custom Label From?
It's easy to buy custom labels that match your brand requirements when you work with an expert label printing partner. Hiring a knowledgeable and experienced label company such as Lightning Labels is a shortcut to custom label quality, whether your brand uses boxes, bottles, bags or any other form of packaging.
Lightning Labels uses 100% digital label printer technology, which enables flexible order sizes and fast turnaround times, with a focus on high quality label types. Whether your brand needs roll or sheet labels, and no matter the combination of label material, shape and size you're looking for, Lightning Labels' digital printing methods can deliver.
Request a quote today to see just what custom labels could mean for your brand.