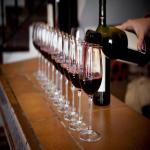 What kinds of factors influence a customer's opinion of your product? Marketing plays a part. Your brand's reputation forms another part of the impression. But when a shopper is in a store about to make a purchase, there's one last source of information: the item's custom label.
If you're hoping people will think of your brand as a premium, high-quality option, you should make sure the product label conveys that message. To truly go the extra mile, you can ensure the packaging has both an upscale look and a compelling feel in customers' hands. How? By using custom embossed labels.
A Premium Feeling: Custom Embossed Labels
An embossed label has raised elements that rise above the surface of the label. If your competitors' products lack this level of design, the embossing process can ensure that your goods stand out. Custom embossed labels show that effort and thought went into packaging design, implying that your brand has made the highest-quality version of an item.
If you own a small business, this extra level of polish can be a critical differentiator. While extensive advertising may be prohibitively expensive, it's affordable to create a great-looking label through embossing. By making your items look as good as, or better than, similar products from much larger brands, you can win the battle for customers' attention where it counts: in the store.
A custom embossed label could look especially good on:
Wine and spirits bottles: Wine label creation and general alcohol bottle design are all about standing out in a crowded field, hopefully reaching people who have never tried your brand before. The tactile appeal of embossing is a major advantage in this effort.
Premium food packaging: Jars and cans of food can look very similar on store shelves. To make sure people realize your brand is committed to premium quality, you can use an embossed design.
Gift item labels: When you're hoping your product will be given as a gift, adding the extra touch of embossing can make customers gravitate toward your brand.
There's no limit to the types of products you can sell with an embossed label design — as long as there are logos, text or images that would look good when raised, the potential is there.
Matching Embossed Labels with Other Features
There's no need to stop at embossing alone when designing a premium label. By combining the visual appeal and 3D feel of custom embossed labels with other features, you can curate a truly high-quality experience.
Hot foil stamping: Perhaps the most natural match for embossing is hot foil stamping. A foil label has shining metallic elements that make your items gleam. There are a variety of foil colors, so whether you need a subtle silver or a glinting gold, you can get the look you're seeking.
Extended content labels: If you find yourself eager to put more information on your labels, but want their surfaces to be relatively minimal, you can select extended content labels. These peel-off labels can reveal extra text, from recipes to brand history.
Earth-friendly label material content: You can win over conscientious customers by printing your embossed labels on a green label material such as recycled paper or biostone, which contains no trees.
Finding the Ideal Embossed Label Printing Partner
When you need to find ideal embossed labels, you should turn to an experienced producer of all kinds of custom labels. Lightning Labels has the ability to create embossed labels on any label material you can imagine, cut to the size and shape you need.
Even if your product demands an embossed sticker rather than a full-scale custom label, Lightning Labels can deliver to your exact specifications, providing extra services such as hot foil stamping or extended content.
Request a quote today, and envision your products with custom embossed labels.