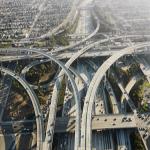 Sticker Labels For Energy-Efficient Cars
Drivers often place custom stickers on their cars, including bumper stickers, registration tags and parking permit decals. But none of those uses are as innovative as what California has done recently.
As of January 1, the state allows owners of energy-efficient cars to apply for car stickers that would let them drive in carpool lanes without co-workers in the backseat. The state has made 40,000 Green Clean Air Vehicle Sticker available for cars that qualify under California's Enhanced Advanced Technology Partial Zero Emission Vehicle (AT PZEV) requirements.
The state has also created a class of white clean air stickers that can be placed on cars with pure zero-emission certification and use alternative fuels like 100 percent battery electricity or hydrogen fuel cells.
Replace Old Window Stickers The green window stickers offered to eco-friendly California motorists take the place of a now erstwhile program that placed yellow stickers on hybrids, which ended in mid-2011.
Now, 2013 makes and models - including the Chevrolet Volt, Ford Fusion Energi and the Toyota Prius Plug-In - all qualify for green stickers, while cars like the 2013 Fiat 500e and the Honda FIT EV can display white window stickers.
Request your FREE instant quote today.