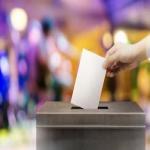 One of the most iconic parts of voting in a U.S. election is handing out "I voted" stickers, little badges that help people show off their engagement in the democratic process. If you're in charge of ordering these stickers for your community's polling station this year, it's time to think about logistics. How do you want the stickers to look, and what can you do to make sure they arrive on time, in the right quantities, and looking great?
Custom 'I Voted' Stickers: Best Practices
Ordering custom stickers for your polling place means obtaining the right number for your constituents: Buy too many and there will be cost overruns and stock surpluses. Obtain too few and you risk running out before the polls close, leaving voters unhappy that they don't get to display the famous message. With flexible order sizes enabled by our all-digital printing methods, Lightning Labels will give you the exact amount of stickers you need.
Creating high-quality political stickers also means ensuring the materials and design are up to your standards. This is an especially important step if you're going with a different "I voted" design than in years past. Fortunately, Lightning Labels offers free proofs for only the cost of shipping. You can see for yourself whether the design turned out right before signing off. For even faster and more economical approval processes, you can get your proofs electronically as PDF files.
With primaries, caucuses and the general election spread out across the calendar for 2020, you may have to get custom "I voted" stickers on a short timeline. Lightning Labels' all-digital printing processes enable quick turnaround times on new orders of labels. If you use up your polling place's stock of stickers in a primary, it's a quick and easy matter to re-order for the general election.
Extra Features of Great 'I Voted' Stickers
To ensure your area's "I voted" stickers look great, you can take advantage of Lightning Labels' precise die-cutting abilities. Circles, ovals or more complex shapes are all available in a variety of sizes. You can also choose a material and finish that work for your constituents, with tough polypropylene blends standing up to the elements and displaying their bold colors all day.
While stickers are just one small part of a smoothly run polling place, they do represent an important election day tradition. Working with Lightning Labels is one way to get "I voted" stickers that are exactly right for your needs.
Request your FREE instant quote today.