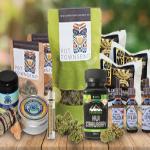 The legalized cannabis industry is booming, and your role in it could be largely determined by the quality of your cannabis labels. In order to be a strong competitor in both the recreational and medical marijuana markets, you must not only make sure your labels are accurate, but distinct and attractive as well.
How Your Cannabis Product Labels Influence Consumers
Did you know that most people only have an 8-second attention span, according to a study referenced in the New York Times? That means you only have about 8 seconds to not only make a great first impression, but to convince a consumer to purchase your product. Thankfully, if you have quality cannabis product labeling, your products will sell themselves.
According to research printed in the Journal of Business Strategies, product packaging has a remarkable influence on consumer selection and purchasing patterns. Study participants were questioned on various aspects of labeling design, including color, shape, convenience, image and other factors. Results of the study revealed that color and image had the most significant impact on consumer purchasing decisions. Convenience, shape and quality were all secondary considerations in the purchasing decision.
Choosing the right colors for your cannabis product labels can be a hit-or-miss process. If you find that your labels aren't attracting the right consumer base, you may want to make a drastic change and update them. TransUnion did this very thing and chose to change the design of their logo from a tan and green color (which can be associated with greed) to a friendly blue color that makes them appear more trustworthy and responsible.
Before printing your cannabis packaging, do some research to find out what colors your target market prefers. You should also consider the feelings and impressions you would like your products to portray. Here are a few popular colors and the impressions they tend to make on consumers, according to an infographic published by Shopify, Inc.
Red: energetic, attention-grabbing, provocative
Blue: trustworthy, responsible, dependable
Purple: sophisticated, spiritual, royal
Green: wealth, prestige, health
Yellow: motivation, positivity, light
Black: prestige, sophistication, value
Orange: playful, fun, exuberant
Brown: simplistic, durable, natural
White: noble, pure, clean
What emotions or impressions do you want to make on potential consumers? Once you have answered this question, you will have an easier time choosing the right colors and designs for your cannabis labels.
Print Your Winning Cannabis Product Labels
Already have a winning label design? Let us create the finished product for you! At Lightning Labels, we provide a wide variety of high-quality materials and laminates for our custom cannabis labels.
Whether you're looking for a high-gloss look, a matte finish or eco-friendly options, we have just what you need to make your cannabis product labeling stand out and get noticed. Take advantage of our lightning fast turnaround time (48-72 hours after proof approval) and our free ground shipping, which we offer for online orders.
Request your FREE instant quote today.