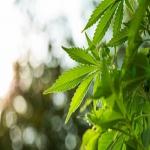 The legal recreational cannabis industry is one of the most surprising and exciting entrepreneurial opportunities of the past few decades. Tell a small-business owner from 1997 about your promising new line of cannabis-based snacks and you'd likely get a blank stare. However, there can be no doubt that this field has become an interesting new space for innovation in product creation and packaging excellence, not unlike craft beer or vaping supplies.
Just like in the worlds of beer and e-liquid, cannabis' products' future may be defined by bold and interesting labels. Companies have to be careful and creative when working on cannabis product labeling, as there is a need to balance visual appeal with a web of ever-changing regulations that tend to vary by state or province.
Taking The Next Step
"Companies are branching out into interesting and eye-catching designs."
Cannabis legalization has made progress over the past few years, with states such as Colorado and Washington entering the second phase of product marketing. Companies are moving beyond labels meant strictly to comply with rules and are branching out into interesting and eye-catching designs that don't stray beyond the legal restrictions placed on them.
If organizations can successfully make the jump from mere compliance to stylistic excellence, the legal cannabis industry will enter a new, more permanent phase of its existence. As an early participant in this still-young industry, you want your brand's cannabis labels to make a strong, positive impression. Getting through to customers now could help your chances of becoming an enduring presence as legalization spreads to new regions.
Keep Up With Evolving Laws Around Cannabis Product Labeling
Even states that have accepted a path to cannabis product legalization haven't necessarily finalized their rules for labeling these items. By working with a labeling partner that offers solutions such as sequential number labeling, you can be sure your cannabis packaging has the elements regulators demand. Furthermore, an all-digital printer such as Lightning Labels can provide short print runs, preventing your brand from being saddled with large quantities of labels that could be made irrelevant by a new law.
Request your FREE instant quote today.