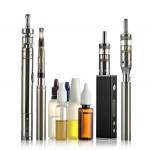 When you launch a fresh, new brand in a growth market - such as the vape and e-liquid space - printing labels can seemingly present problems. If you produce a relatively small number of bottles of each e-liquid flavor, you may find yourself making a choice between buying uniform labels for the whole brand and spending on large print runs that eat into the budget.
"Get the distinct look your product deserves, without breaking the bank."
There's no need to accept one of these sub-optimal choices when you work with Lightning Labels, however. Digital printing allows you to receive variable labels. You get relatively few of the design for each individual flavor, all in one quick and efficient order. This lets you get the distinct look your product deserves, without breaking the bank.
An Exciting Space
Whenever a sector is truly new and relatively unestablished, brands have the opportunity to stand out through bold visual statements. This is happening in craft beer and, with the right vape labels, your company can make a splash in the vaping products space. Bold colors, memorable branded imagery and evocative color palates that differ between flavors - all of these are tools you can use to make your products stand out.
One of the drawbacks of operating in a young industry is the chance that rules will change, potentially requiring new e-liquid labels. Fortunately, the same digital processes that allow more variability will let you change up your brand's look quickly. Low minimum orders means less wasteful surplus, and fewer labels that would need to be discarded in the event of a regulatory shift.
Work With a Trusted Partner
Lightning Labels is able to provide the speed and flexibility described above because it is committed to value-added services such as domestic production, an all-digital printing process and top-notch customer service. Working with Lightning Labels can represent a quick and efficient way to stake your vape brand's place in this fascinating new industry.
Request your FREE instant quote today.