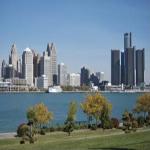 Medical cannabis use is becoming increasingly common, and recreational legalization efforts are spreading to multiple states and all of Canada. In this climate of growth, the cannabis industry has never been more vibrant or exciting to participate in as a business owner.
Gatherings such as the upcoming CannaCon Detroit, scheduled for June 1 and 2, unite professionals from across the sector to align their visions moving forward.
These industry-wide conferences are great settings to learn about important trends and to meet with potential partners - such as Lightning Labels. We'll be exhibiting at booth 417, promoting the potential value of high-quality custom stickers and labels.
Exploring CannaCon
The experience at CannaCon is divided into two basic types of learning. Scheduled events include seminars and talks from some of the top names in the legal cannabis world, allowing growers, vendors and other members of the industry to gain insights and intelligence that will serve them well in the years to come. The exhibition hall, on the other hand, is a place to browse numerous companies offerings and strike up partnerships. This is where Lightning Labels representatives will be displaying examples of our custom labels.
With more than 200 influencers on hand, there is ample knowledge to be gained at CannaCon Detroit. The busy show floor is a prime place for networking, market research or simply to be inspired by the vibrancy of the industry. With so many new opportunities arising for cannabis producers and sellers, including in Michigan where a potential recreational-use ballot question is under consideration, now is a great time to gather intelligence. While it's possible to study up online, actually getting face time with fellow cannabis professionals may deepen attendees' perspectives.
Advantages of Cannabis Labels
The early days of the legal cannabis industry were defined by highly functional packaging that performed a simple task: cannabis Labels and stickers contained the information needed for legal compliance. With more entrants joining the recreational market every day, however, today's producers also have to create visual interest. Competing with other brands now, in the early days of the sector, could prove helpful for businesses as consumers develop preferences and favorites.
Lightning Labels has been part of cannabis sales for over a decade, helping medical and recreational providers display their wares in high-quality packaging. In an industry that demands both strong branding and unfailing adherence to evolving state laws, there's no way for companies' owners to skimp on label design and production. At CannaCon, these professionals can see the potential of cannabis Labels in person.
Request your FREE instant quote today.