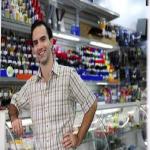 There's a limited number of potential customers for your small business. While appealing to new shoppers is a key marketing consideration, consolidating and encouraging repeat buyers is the way to truly turn your company into a success. There are important actions that, when carried out well and timed correctly, can increase customers' desire to return time and again to shop with you. The amount of focus you place on these loyalty-building moves may determine your business's long-term fate.
Try These Tactics
The shoppers who make up your clientele are looking for a few comforts that will elevate your offerings beyond what national brands can offer. These are a few tactics you can use to make a positive impression and increase repeat customers.
Make clients feel special: According to the Forbes Young Entrepreneurs Council, your audience is made up of individuals who are looking for deals and discounts that will make them know their business is appreciated. You can do this by asking people to sign up for an email or text mailing list, or by using physical coupons that reward loyalty. You can even include those coupons directly in your products' labels, so every purchase encourages buyers to come back for another.
Give out gifts: A little token of appreciation can make a shopping experience more memorable, and draw a buyer back in. The Balance contributor Alyssa Gregory suggested using free promotional items to sweeten a sale. These little gifts, such as colorful and interesting bumper stickers, travel home with your customers and act as a reminder to return and buy the exciting new offering being promoted.
Create a VIP Program: Gregory added that there is value in setting aside special perks, privileges, info and offers for your most loyal shoppers. If you make it clear how consumers can join these ranks, they'll realize it pays to come back often. In a time when it's easy to jump from one company to another for different purchases, a VIP program based on how much someone buys creates real value around staying consistent.
Custom Labels and Stickers Bring Business Back
Encouraging small business repeat customers is a high-priority marketing objective, and can increase your chances of winning loyalty through label and sticker use. Product packages that incorporate coupons, promote a VIP program or advertise future offerings may prove influential with the people browsing your aisles. Furthermore, bumper stickers advertising new or upcoming products can be excellent and influential free giveaways. With a few clever new ideas in the mix, you can increase your outreach to shoppers.
Request your FREE instant quote today.