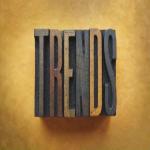 Creating a visual identity for your business's packaged goods means balancing unique flair with industry-approved trends. Following in footsteps of your fellow brands can give you great ideas, while adding your own branding will make your items stand out on the shelves. Studying 2018 packaging trends is a great idea if you've gone too long between redesigns.
Using that inspiration to shake up your own labeling strategy may point you toward success.
Defining Strategies
The following are a few concepts that have been making waves in the labeling world, and which you may find helpful to adopt:
Becoming Eco-Friendly: Daymon Creative Services Director Steven Cox told Packaging Europe brands are becoming greener in their approach to product packaging. Consumers care about the materials companies use, due to a growing interest in safeguarding natural environments and resources. Firms that use earth-friendly materials for their goods should be especially conscious of label materials, as failing to go green could hurt their credibility.
Pursuing Advanced Clean Labels: Selling foods and beverages based on their nutritional value is an ongoing trend. According to Cox, consumers today are more focused and better educated than in years past. Companies must carefully select claims they make on packaging labels, ensuring they choose traits that truly matter to their audiences.
Embracing Simplicity: Is less more? As 99designs' Martis Lupus specified for Packaging Digest, companies are finding value in cutting the clutter. People want to learn key facts about the items they're inspecting, and too much flashy design work can obfuscate the facts. This is why the surest path to labeling success may involve a minimal look.
Quality Counts
No matter what trends your company embraces, high-quality materials and craftsmanship will help your labels stand out on store shelves. Instead of letting a great design be obscured by poor production, your business should work with an experienced label provider such as Lightning Labels when it's time for your next brand refresh.
Request your FREE instant quote today.