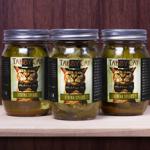 Product Description
Canned food labels can adhere to any product and contain just about any words or graphics, a company logo, mission statement or even a custom design. Thanks to the experienced printing team at Lightning Labels, you can design canned food labels to meet your unique needs. These custom labels can stick to cans of any shape or size and be used by businesses or individuals to promote products. Canned food labels can also drive brand awareness.
Businesses want to increase attention and sales, and canned food labels can be the best way to do this. The custom labels are high-quality, which means graphics and text will be crisp and clear and won't fade away on the shelf or in the pantry, and labels will not peel off.
How a Canned Food Label from Lightning Labels Makes a Difference
Lightning Labels delivers unmatched benefits and value, including:
Free ground shipping in the U.S. and Canada*
24-48 hour turnaround**
No set-up fees, no plate fees, and no added fees for unlimited color!
Free printed press proofs*** for all custom labels and sticker orders, in addition to PDF files
100% satisfaction guaranteed!
Businesses and individuals with great food ideas can bring their thoughts to life with a custom canned food label. When marketing new products, companies don't want to break the bank, and Lightning Labels can offer small quantities of food labels for people who are making small or limited runs of an item. A canned food label from Lightning Labels will be both easy on the eyes and the wallet.
If you need to get as much attention as possible for your new product, the printing professionals at Lightning Labels can make your ideas pop!
Call Lightning Labels to Create Printable Canned Food Labels Today!
Lightning Labels' printable canned food labels an be made using a variety of high-quality materials, including:
White, clear and silver BOPP (a Polypropylene material)
Eco-friendly PLA
Textured materials
And more!
In addition, further customization may include variety of finishes, sizes and shapes, including rectangle, square, oval and circle.
Free Stickers and Labels Sample Pack
Lightning Labels offers full-color digital printing. Check out our custom label samples and sticker proofs for quality assurance and design ideas.
Click here to request your free sample
Lightning Labels has been servicing the printing needs of our customers for more than 10 years. We are extremely proud of our BBB rating (A+) and guarantee your experience with us will be a positive one.
Call us at 888-907-3004 today to place your printable canned food label order and watch sales skyrocket!
*on regular priced orders **following proof approval ***shipping charges apply