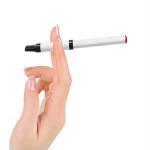 It's almost time for the BIG Industry Show in Fort Lauderdale, Florida. On January 10 and 11, this gathering of companies involved in the vaping and e-cigarette industry will give brands a chance to make lasting partnerships that take their products to the next level.
The vape industry is still relatively young, and Lightning Labels has been a presence in the space for virtually its entire existence, so it's no surprise that Lightning Labels will have a booth at the expo: Come see us at booth 435 to learn more about the connection between custom vape labels and your products' shelf appeal.
Discover the Value of Vape Labels
In addition to providing the ingredient information and safety warnings that keep products compliant, e-juice labels act as a primary form of advertising. Consumers may not yet have strong brand preferences, and giving your items a bold yet consistent look can be the element that wins customers over.
When your brand is ready to scale up and increase production, Lightning Labels can stay on as an essential partner. While our all-digital processes enable us to offer low and flexible minimum order sizes, we can also deliver the speed and productivity that growing organizations need to stay competitive.
As regulations change and new market forces emerge, you can be sure that the e-juice labels you get from Lightning Labels can change along. If you'll be in Fort Lauderdale for the expo, you can learn more in person.
Enjoy the First Event of the Year
The BIG Industry Show is the first major business to business trade show on the calendar for 2018, and it's sure to be a great tone-setter for the year to come in the vaping industry. Whether you represent a new brand seeking custom vape labels for the first time or a seasoned company looking for an upgrade, stop by booth 435 to learn why Lightning Labels is an ideal third-party partner.
Request your FREE instant quote today.