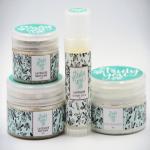 Founded by 13-year-old Nicole Ayoub in February 2016, Truly You Skincare faces the challenge inherent with most new product companies: Produce a high-quality product with professional- grade packaging on a do-it-yourself budget.
Nicole, with the support of her mom Michele who provides oversight and guidance, formulated and manufactured the skincare products themselves, but found the labels lacking. "At first, the labels weren't oil-resistant and waterproof. They were falling off and looked bad, which made us look bad to buyers and retailers," says Nicole. The company needed to engage a custom label printer partner that would deliver consistently professional results, while keeping costs low and staying nimble to fast-changing circumstances.
SOLUTION
Lightning Labels Customer Service Representative Bianca found a way to keep costs low, provide labels Truly You Skincare could be proud of, and ensure fast turnaround to meet "just in time" deadlines. This helps keep their expenditures closely tied to immediate fulfillment requirements. In addition to printing small label quantities very quickly, Bianca had to ensure keeping delivery charges under control.
"Bianca's been terrific," says Nicole. "We were going to take advantage of a 20% off coupon at the time of Hurricane Matthew. Storm disruption made us miss the deadline. She honored it post-hurricane. That extra 20 percent makes a difference. I feel like everyone is part of the business. Everyone is helping us succeed."
Nicole emphasizes, "If you want to create a big-name brand with low-quality label printing, it won't work. We found out the hard way that the eye won't be drawn to the product if it has a bland label, or one that doesn't weather the elements well. We were afraid of hiring a professional label company, but ended up surprised and pleased. We have a great looking product that's an easier sell for retailers. And we have another set of eyes for quality control — Bianca watches everything like a hawk."
OUTCOMES
• Cost-savings over do-it-yourself: When all is said and done, Truly You Skincare has been able to get professional wraparound and top labels for the same price as one label printed on their own. Notes Nicole, "We wasted so many labels before. Every time we printed, there was no consistency. This is much better quality…and much better consistency—so it's a win-win."
• Labels as they're needed—no more, no less: "With Lightning Labels, we don't have to order a thousand labels to get reasonable pricing. They have enabled us to have a profit margin even ordering 100-200 labels at a time," says Nicole.
• Blueprint for growth: Truly You is expanding its retail and direct sales channels, as well as its product line. Nicole is wasting no time building the company. "We're getting a lot of personal sales. We're working on getting more retailers. And we'll expand the product line as soon as we get the current line rolling along and as inspirations occur," notes Nicole. "Being outdoors this past summer helped us conceive a lotion stick and bug repellent in one, featuring natural essential oils." The company currently offers lavender, citrus lemon and grapefruit body scrubs, "Body Meringue" emollient cream, and a Lavender Lotion Stick.

About Truly You Skincare
Truly You is a natural and organic skin care company based in New Canaan, CT featuring 100% organic natural ingredients. Truly You does not use parabens, phthalates, or petrochemicals. Nicole Ayoub's ongoing struggle with eczema prevented her from using most conventional skin products. Developing products that she, and everyone else, could use became the rallying cry that led to founding Truly You Skincare. Core ingredients in the company's three flagship products—body scrubs, body meringue, and lotion stick—are:
• Unrefined Organic Virgin Coconut Oil: provides deep and long lasting moisture, contains essential fatty acids and proteins, promotes healthy skin cell growth and is full of antioxidants to protect skin.
• Shea Butter: provides lasting moisture for dry or damaged skin, stimulates collagen production, improves skin elasticity and promotes skin regeneration.
• Organic Beeswax: seals in moisture for long lasting nourishment and acts as a protective barrier on the skin's surface.
• Organic essential oils: lavender, citrus lemon, grapefruit and peppermint.

About Lightning Labels
Lightning Labels uses state-of-the-art printing technology to provide affordable, full-color custom labels and custom stickers of all shapes and sizes. From small orders for individuals to the bulk needs of big businesses, Lightning Labels is equipped to handle and fulfill custom label and sticker projects of all types. Best of all, like the name implies, Lightning Labels provides a quick turnaround for every customer 's labeling needs. Whether it's wine labels, food labels, bath and body labels, promotional labels—or any kind of colorful label/sticker that needs to be custom printed—Lightning Labels can get the job done. Lightning Labels strongly supports the use of environmentally-friendly printing materials and technologies.
Request your FREE instant quote today.