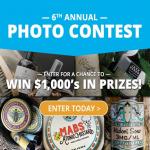 Impressive Label Designs and Great Photos
For the past five years, Lightning Labels has held an annual photo contest, showing off its customers' creative label designs in their natural habitat. Between now and July 1, Lightning Labels will be accepting applications for the sixth iteration of the contest. If your products use Lightning Labels, you can enter via Facebook.
This is an especially important year to hold a custom label and sticker contest, as it's Lightning Labels' 15th anniversary. No company makes it to the decade-and-a-half mark without a great customer base, and this is no exception. The label contest isn't just about Lightning Labels itself — it's a celebration of all the creative ideas that have come to life through custom labels and stickers in the past year.
Chasing Big Prizes
There's more than just pride on the line when it comes to this year's label contest. The first prize winner will walk away with a 60-inch flatscreen HDTV, while second prize is an Apple iPad and third prize is a pair of wireless Beats headphones. Fourth- and fifth-place winners will earn free labels, to help them keep their award-winning labeling campaigns rolling into the months ahead.
Taking home these big rewards takes two elements - a good-looking label and a well-constructed photograph. Business owners can step up and show off how they've taken advantage of Lightning Labels' ability to print just about any kind of design, harnessing a wide variety of materials and finishes to make a company's unique value proposition come to the fore.
Lightning Labels' offerings run the gamut, from 100 percent recycled labels that show a brand's commitment to the environment to chrome BOPP polymer labels that give a shimmering, classy look. There's no one perfect product label. Each company will have its own best option, and Lightning Labels helps these businesses reach their disparate goals.
Reflecting and Looking Forward
Every year, a new crop of incredible label designs graces the Lightning Labels photo contest. For an organization with 15 years of history, this is a heartening sign that customers are always finding new ways to make its offerings work for them.
With all-digital printing processes that make orders of any size possible and affordable, Lightning Labels is ideally suited to follow its clients into the future, no matter where they go from here. If you're not a customer yet, look at the entries to the label contest and imagine how great your branding could look with Lightning Labels' help.
Request your FREE instant quote today.