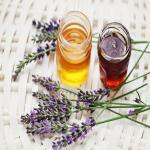 Entering honey production and distribution is an opportunity to reach customers with a healthy, natural alternative to artificial sweeteners. As a simple, wholesome product that comes directly from nature, honey has a permanent role in customers' diets. The challenge associated with entering this market involves making your honey stand out from competitors' offerings. The solution may come from creating a compelling and memorable brand identity through the use of effective packaging and label design.
Whether you're a first-time honey producer, a small seller looking to enter more general sales avenues such as supermarkets or an existing brand in search of a revamp, your custom jar labels are a key part of your products' promotion.
What's the Status of the Honey Market?
Customers around the country and the world are interested in increasing their honey consumption - good news if you're just entering this space. In late 2019, Fact.MR predicted 5.1% growth for the honey market. The demand for honey is tied to a prominent trend: Healthy eating. People are looking to simplify the foods they eat, avoiding chemical flavors where possible. Honey's wholesomeness in this regard has made it a top choice, both for individual customers and other companies.
Makers of food products such as baked goods, cereal and beer are interested in using honey as a flavoring, according to Fact.MR. While this may help producers move more of their honey, the most straightforward way to market your goods is still creating a brand that will appeal to health-conscious customers. In addition to standard honey, the researchers found consumers looking for Manuka honey, blueberry honey, dandelion honey and more. If you can offer these varieties, they may help you win attention from your audience.
How Can You Market Your Honey Products Effectively?
Choosing a brand identity for your company is an early step in creating compelling packaging and thus reaching your potential audience. If you are a smaller producer, you can benefit from adopting a craft aesthetic. This strategy, familiar from the world of beer and spirits, involves designing unique honey labels that express some aspect of your background. Do you have a connection to your city or state? You can play up that connection in labels to remind consumers they are getting a product made by a small producer in a specific place - this may serve their desire for wholesome, simple foods.
Beekeeping industry information source Bees For Development pointed out that label design is the way to reach first-time consumers. These are the buyers who have never tasted your honey and are encountering it in stores. While tasting the product may bring them back for future purchases, the initial impression created by your labels is where long-term loyalty begins. Reaching these shoppers takes clarity in your label design.
As Bees For Development noted, it's much easier to win over a first-time customer when that person knows exactly what they are getting from the front panel of your honey label. Using easily legible text that describes the nature and origin of the product while not taking away from its visual appeal is the surest way to win over these shoppers. You may also find value in using symbols or text to convey nutritional plaudits your product has won - if you've achieved organic certification, for instance, you should make that clear. It is also important to ensure you actually any nutritional claims are verified.
The back panel of your honey jars will likely be occupied by Food and Drug Administration required elements such as a nutrition facts panel and ingredient list. This information should also be presented as clearly as possible. Health-conscious customers will want to make sure they are getting a natural product that fits their diet parameters.
What Is The Ideal Custom Label Style for Honey Jars?
When designing jar labels, you have more visual options at your disposal than you may realize. For instance, selecting clear BOPP custom labels allows you to let the color of the honey show through transparent areas. The wholesome golden sight of honey is a compelling part of these products' appeal, so clear materials have evident value for your brand.
When you order honey labels from Lightning Labels, you can select from a variety of materials and finishes. Transparent, waterproof labels in the shape and size of your choice will show off your products in their best light. Request a quote today and get started promoting your honey offerings.
Request your FREE instant quote today.