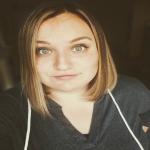 In February 2019, Kayla Escarcega made a clean break from working as a rewind operator to being promoted to Sales Administrative Coordinator at Lightning Labels. Kayla also is devoted to housecleaning, which she regards as an enjoyable pursuit, business opportunity and good habit.
Do What You Love, And Never Work A Day In Your Life
"I enjoy cleaning, which may sound strange," says Kayla. "From a young age I was taught the importance of having a clean home, workspace and just paying attention to the small details that most people overlook. And I continue to grow a cleaning business that I started before joining Lightning Labels."
Upon teaming up with Lightning Labels in June 2018, she worked in production as a rewind operator. Primarily, she put customized labels onto rolls, verified the accuracy of any color-critical jobs, and watched for any mistakes during the die-cutting label making process.
Her 2019 administrative team promotion shifted responsibilities to day-to-day operations—including helping maintain customer files, supporting the prepress department with order layouts, and assisting the sales and account team, in concert with Senior Manager Julie Waldrop.
She points out, "The best part of my job is that every day is different. I enjoy keeping busy and am looking forward to new responsibilities in the near future, as we continue to add new positions to the production and account management teams—all focused on maintaining high customer service standards and performance."
Other Life's Loves
Kayla is quick to note, "My family is the most important thing in my life, of course. I am the third oldest of 10. My parents had help raising us all from my auntie Lori and grandma. My grandma was actually the one who taught me how to clean at age six. Even though I don't get to see my family often as they live in Illinois, I do visit at least once a year. I don't think I would have turned out as well as I have if it wasn't for my parents, aunt and grandma."
She adds, "Since I am unable to see my family, I focus a lot of my time when not working on helping plan birthday parties for my husband's family—everything from making the cake, centerpieces and piñatas to setting up and, of course, cleaning up!"
Born in Aurora, CO and raised in Illinois, Kayla has made the most of leisure-time pursuits since returning to Colorado 11 years ago. Off-roading, walking, bicycling, hiking, painting, candle-making and interior decorating round out an already full list of activities.
Clearly, Kayla is "cleaning up" on every opportunity available to her in both life and livelihood.
Request your FREE instant quote today.