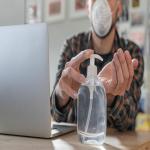 The global COVID-19 pandemic has made the direct link between cleanliness and health clearer than ever before. The U.S. Food and Drug Administration notes that while washing hands with soap and water for at least 20 seconds is the standard for removing germs from the skin, people
can use alcohol-based hand sanitizers
in the absence of running water.
The new emphasis on hand sanitizer products has led to high levels of demand and shortages among businesses and individuals alike, and more companies are stepping up to produce bottles of sanitizer. The FDA has acknowledged that many of the organizations just getting into this type of manufacturing have not previously been approved as drug manufacturers, and has responded by creating a temporary hand sanitizer labeling guidance document for use during the public health emergency.
If your company is one of the firms shifting to alcohol-based hand sanitizer creations, you should quickly learn the requirements for bottle labels. A clearly labeled sanitizer bottle can reassure users they are getting a product that meets the FDA's criteria and will help them get their hands clean while on the go.
What are the Requirements Around Hand Sanitizer Labels?
The FDA's guidance for emergency hand sanitizer label production includes label templates. These differ based on whether the company in question has made its product out of ethanol or isopropyl alcohol. Furthermore, there are varieties for consumer use and distribution in professional medical settings. The templates incorporate front panels that include descriptions of the formula and percentage of alcohol, as well as drug facts labels containing usage directions and warnings.
Companies have to take precautions when shifting to hand sanitizer production to ensure their items don't pose undue risk, especially to children who might accidentally ingest the product. The FDA's instructions to producers echo the recommendations of the World Health Organization. There have been several safety features built into the formula - for instance, even if there is a manufacturing error that results in less than the intended volume of alcohol being added to the product, it will likely be above the minimum effective threshold for sanitizing skin.
How Have Alcohol Distillers Handled the Change to Sanitizer Production?
Alcohol makers have some of the elements to make sanitizer, and many have answered the call. Distilleries hoping to pivot from producing spirits to creating hand sanitizer initially had to add an extra element to the process - denaturing agents. Newsweek reported that this represented a roadblock for some companies hoping to get into the sanitizer market. Demand for a policy change yielded results, but companies using non-denatured alcohol have to pay taxes as if they were still making spirits, according to Forbes contributor Fred Minnick.
Distilleries including Beam Suntory and Wilderness Trail switched over to production using non-denatured alcohol during the pandemic. With hopes of receiving tax credits in the future, these companies have been creating sanitizer for local hospitals and emergency medical services. Minnick noted that a tax waiver is part of a relief package moving through Congress.
What Do You Need to Know About Ordering Hand Sanitizer Labels?
If your company is entering the hand sanitizer space to fight back against emergency shortages, you need custom labels that meet standards, and you need them quickly. Ordering your hand sanitizer labels from Lightning Labels is a great way to ensure you get the packaging you need, while the all-digital printing methods favored by Lightning Labels enable fast turnaround times. Convenient features such as PDF proofing allow you to cut steps out of the ordering process for even faster results.
The COVID-19 crisis has led individuals and companies to look for new ways to help out. Producing hand sanitizer is one of these methods. If this is your chosen approach, you should ensure your labels meet all applicable standards - request a quote from Lightning Labels today to get started.
Request your FREE instant quote today.