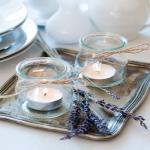 What You Need to Know About Candle Labels
Candles are an ideal way to provide light, warmth and character to your customers' homes. If your product lineup includes candles, you can connect with shoppers through multiple seasons, bringing out seasonal varieties through the fall and winter months, or using different scents to evoke changes in nature. There are a few formalities to take care of when creating candles, however: First and foremost, you must ensure your warning labels are in line with national standards.
It would be disastrous to see your candle business derailed due to noncompliance with federal rules, so it's time to check the National Candle Association's guidelines. These are based on adhering to ASTM F2058 Standard Specification for Candle Fire Safety Labeling, available from the ASTM website. As long as you work with a competent and capable custom label provider, making sure your candles have adequate, customized warning labels should be one easy step during the production process.
What Do The Guidelines Require?
All NCA member manufacturers are required to both subject their candles to fire safety testing and give appropriate safety tips on the labels. The fire safety tips, each with an international graphic available from the NCA, are "burn within sight," "keep away from combustibles" and "keep away from children." The application of ASTM standards and the use of graphics to go along with written warnings show that candle safety is quickly going international. In the era of e-commerce and worldwide communication, safety that transcends language is important.
Of course, the three rules are just the beginning. The NCA recommends going further and carefully listing instructions for using your candles. This is preferable to taking the opposite approach and giving insufficient information. You don't want to take the risk of a customer employing one of your products in a risky or dangerous way. As long as you work with a proficient label provider, you'll be able to fit this information onto custom safety labels and still have plenty of room on your candles for branding.
Having custom warning labels on your candles is a way to show that your brand cares about keeping customers safe. The NCA noted that buyers can't watch as candles receive their fire safety testing, so their clearest indication that a company has gone through this process and does care about protecting consumers is that it uses the correct labels. When you're expanding into the candle business, both steps are vital - reviewing your items' safety and giving out appropriate warnings.
Work with the Right Provider
When you decide on a labeling strategy for a new candle product, you need to ensure that all the relevant safety information has a place on the packaging, alongside your chosen imagery and promotional text. This means working with a provider of high-quality labels, ones that will allow you to work with the level of detail you want. Furthermore, you'll want those labels to be tough to survive manufacturing, shipping, retail and the heat of the candles' flames. Lightning Labels offers high-quality digital printing processes on a wide variety of tough materials, and can be an ideal partner for your brand.
Request your FREE instant quote today.