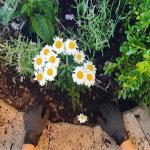 Spring's Just Around The Corner
There are few things more exciting than the winter frost receding and letting spring take over. Your company can capitalize on that feeling by promoting products that will help customers with their spring cleaning, gardening and general home improvement needs. To put messages where you know consumers will see them, you can invest in custom home product labels that will add a touch of spring to your branding.
This strategy can get your customers feeling great about the change of seasons and fired up to start on their personal projects. If you're going to launch such a campaign, however, now's the time to start - spring is right around the corner, meaning it's time to call on a custom label provider and get started.
Possible Product Promotions
The following are a few items that go great with spring-focused branding. The list is by no means exhaustive; when green starts returning to the trees and the air starts warming up, a matching custom label makeover will look great on just about any product. As a start, however, consider these choices:
Lawn care items: In spring, it's time to take stock of grass, flower beds and other yard features. With snow melting away and the ground thawing, homeowners will want to use the right products to ensure their plants grow back strong. Custom lawn labels on everything from soil and seeds to tools and beyond will encourage shoppers to pick your brand of products when they get to work on their landscaping projects. Be sure to insist on tough weatherproof labels if the items in question will be stored outside.
Spring cleaning musts: The outdoor areas aren't the only parts of homes that get a good cleaning out when spring rolls around. Home product labels of all kinds can be customized with spring colors and motifs to encourage people to use them for spring cleaning purposes. With the days getting longer and warmer, spring is one of the few times of the year when cleaning up feels like fun. Capitalize on this feeling to promote your home goods.
Time to Order
The mercurial February weather can be deceptive: While some days still feel like winter, spring is right around the corner. Buying labels now means having them ready to go in late March through April and May when people are feeling the spirit of spring. After that, it will be time to focus on summer, but if you have the help of a fast and reliable labeling partner, this next change will be easy, too. This is where Lightning Labels comes in.
Getting the custom labels you need in time to launch a spring promotion is possible when you work with an all-digital printer such as Lightning Labels. Through high-speed processes that don't skimp on quality, you can have the durable labels you need for outdoor items or cleaning supplies, all decked out in imagery that makes buyers think of spring. Shaking off the winter frost is a big moment for homeowners and anyone eager to work on projects around the house. Your labels should reinforce this point.
Request your FREE instant quote today.