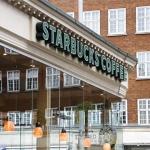 Coffee Giant Launches Calorie Labels on Food Products Nationwide
Health-conscious consumers can now know exactly how many calories are in their favorite Starbucks items, thanks to customized labels on food products. The corporation decided to place calorie counts on all of its goods across the U.S. to create more nutritional visibility for its customers.
Mary Wagner, senior vice president of global research and development for the Starbucks Coffee Company, said the nutritional facts on product labels and menu boards display the company's dedication to consumer health and wellness.
"Menu labeling is yet another step to extend our commitment to wellness, ensuring our customers and partners (employees) have the information they need to make informed decisions and understand all the ways that they can customize their Starbucks beverages to be within their desired calorie range," Wagner said in a recent company press release.
Food Products Labels Cause Media Stir for Starbucks  According to The Chicago Tribune, the inclusion of calories on all of Starbucks food products labels is due to numerous local health regulations. The company voluntarily decided to make the move nationwide ahead of federal requirements to prevent having to do so in the future.
Request your FREE instant quote today.