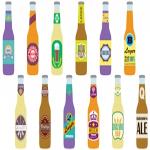 Stake Your Place in The Craft Beer Boom
If you run a brewery, the current consumer market is full of opportunities and challenges alike. While trying interesting brews has become a cultural fixation, allowing you to reach a new audience, there are plenty of rival companies entering the market to challenge you. This is the field you have to compete on, and there are benefits to staking out a unique and interesting look for your brand. This is where custom beer labels come in, acting as a way to present your personality to the world, standing out on crowded shelves of liquor stores.
Stories and "Weirdness"
When you're creating a unique design for your craft beer labels, you should ensure your brand's identity is ably represented. This may mean picking quirky or otherwise interesting subject matter. Broadsheet pointed out that when craft brewers go toe-to-toe with the national brands for customer's eyes, they do so from a position of relative weakness when it comes to marketing budgets and support networks. How do you bridge this gap? You tell a story with your design, whether that means choosing bold imagery or literally printing your story.
You can look outside the box for inspiration when it comes to label design. The source noted that while your large competitors are held back by their years of tradition and established identities, an independent brewery is speaking a different language. You can go for warmth and comfort or quirkiness and uniqueness, all depending on what your beer tastes like and how you want different segments of the audience to perceive the brew.
Beer and wine store executives Paul Ghaie and Eden Gilbert told Broadsheet that the next few years in the market may see a shift toward the more unique and bold end of the spectrum. The vast world of craft brands is seeing its own trends and patterns that your bottle labels will have to differentiate themselves from. The pressure is on to come up with a unique look and make it resonate.
Die Cut Designs Pop From the Shelves
When its time to order beer labels for your brand, you can turn to die cut labels as a way to further improve your brew's visual appeal. These labels come carefully cut into shape, rather than simply wrapping around the bottle. Going with a bold design that works well as a die cut label is a way to boost your product's visual profile on the shelves. This is an especially useful tactic if your bottles are a unique size, shape or color and you're keen to show off their attributes.
Lightning Labels can work with you on your custom beer label product to ensure you enter this competitive market with a strong visual identity. With a variety of materials, die cut shapes and finishes available, you can pick the options that suit your company's story or unique identity. Whether you want to use a local photo, a mascot character or any other piece of brand collateral you can imagine, it will look great rendered on Lightning Labels' state-of-the-art printers.
When you order from Lightning Labels, the whole process can take a matter of days, as the company's commitment to using domestic facilities instead of outsourcing and an all-digital print process act as ways to speed up the transaction. Your brand's new look can't wait, as there are competitors both local and national waiting to move in on your territory. Quickly receiving labels that define your brew visually and draw customers' eyes can strengthen your position as the craft brew boom goes on and more consumers search for interesting new drinks.
Request your FREE instant quote today.