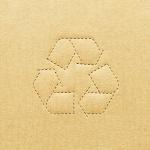 Earth-friendliness Promotes your Products
People have more choices than ever today when it's time to buy a product. This means you'll have to find an edge, something that makes your items stand out from the pack. Eco-consciousness could be that advantage, and environmentally friendly product labels are the perfect way to promote this approach. If you wrap a nominally green product in a highly synthetic label, it could create dissonance and undermine your main objective. Fortunately, there are plenty of materials you can use to create a 100-percent eco-conscious presentation. For example, recycled Kraft paper labels are versatile and useful while having a low impact on the environment.
Consider Recycled Kraft Paper Labels
Combining an "earthy" appearance and the assurance of 100-percent post-consumer content, Kraft Labels can become the face of your earth-friendly brand. These labels aren't laminated, which fits in with the raw and green feel they provide. Despite their rustic look, these labels are not fragile and can be machine applied to items en masse to keep a steady stream of your products to shelves.
Consumers today have become highly interested in protecting the planet, and seeing 100-percent recycled content in labels may be the push millennial shoppers need to decide on a brand. In an era when every imaginable kind of product has dozens of competing versions on shelves, this environmental edge can help your items stand out.
Willing to Pay More
Shoppers today are interested in buying from brands that are earth-friendly in their approaches to packaging and products alike. According to Nielsen, millennials and members of the following generation - Generation Z - are interested in products that come from environmentally conscious companies. The source explained almost three-fourths of millennials feel that way. Even 51 percent of baby boomers, individuals from a generation that developed its retail tastes well before the current era, are willing to pay more for earth-friendly products.
Packaging plays a part in influencing thinking. Among consumers willing to pay more for eco-friendly products, 53 percent told Nielsen earth-conscious packaging is either a heavy or very heavy purchase determinant. Also important to these consumers is that items come from a trusted brand. Creating a cohesive and green brand image could help you become one of these top sources.
How it Works
A recent Northstar Recycling blog post focused on how Kraft paper is recycled. The source noted that heavy use of the paper means there is always leftover stock to recycle and turn into a next generation of wrappers and labels. Turning old stock into a new raw material means sorting, collecting and milling the product. Companies around the world have committed to this process and are always looking for new uses for the material. The Kraft Labels offered by Lightning Labels are all recycled from post-consumer goods, meaning they directly reduce waste.
Order Now
If you're trying to reach out to millennial consumers as an eco-conscious ally but haven't taken care of your labeling materials, a key piece of the packaging puzzle is missing. When you make the change to a new material, you gain a valuable new marketing bullet point, something that can make shoppers feel good about the choice they're making.
Working with Lightning Labels means this process doesn't have to take long, either. Lightning Labels, true to its name, is capable of lightning-fast turnaround times on your orders. Recycled Kraft Labels aren't even the only earth-friendly option available for your products. You may prefer to use Vellum #60, which is also made from 100-percent post-consumer goods. Or maybe Earthfirst PLA is more suited to your products. This option uses biopolymers in place of petrochemicals. If your brand believes in green practices, Lightning Labels can give it its face.