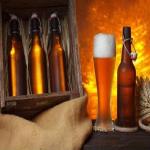 Craft beer styles brewed in small quantities have their own sort of appeal. An exclusive brew only available once, or during a certain season, is a clarion call to beer aficionados. There is one hitch, however. How will these enthusiasts find your brand among the hundreds on store shelves? Custom beer labels can help you call attention to your small-batch craft beers and clearly show how special the contents of each bottle are.
Beer Labels Make a Statement
The beer market and craft brews, in particular, have grown and diversified over the past few years. Being an alternative to the big brands is no longer enough. Now, you also have to stand out among the numerous other small breweries active in your region and beer style. Your beer bottle labels can become a primary branding tool, especially if you pick a material and finish that suits your chosen imagery and logo treatment.
A seasonal or otherwise limited brew may also benefit from sequential number labels, with each bottle stating clearly that it is part of a limited series. This is a great way to make people realize they may not be able to try this brew again, so they should sate their curiosity by trying it right away.
As for the imagery you choose for the label, your brand's unique qualities should dominate the design. Whether it's pride in your methods, a commitment to your region or a canny choice of a mascot character, there will likely be at least one feature you can turn to when it's time to create a memorable look.
Work with the Right Partner
Lightning Labels can help with your brand's craft beer label printing needs. All-digital processes mean orders take little time to fulfill, and minimum order sizes are small. This means when you have a limited release plan, you don't have to waste money on a big order of labels, some of which will go unused.
Request your FREE instant quote today.