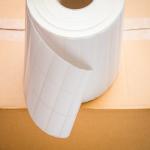 There's this saying to never judge a book by its cover. While it's a good quote, it doesn't apply to everything, especially when it comes to label material.
Why?
64% of consumers try a new product based on the packaging. Your product is already great but you need to translate that to potential customers.
They don't know your product is great unless you have a good presentation to match. But how exactly do you achieve that?
We'll take you through some key notes to select the best label material for your packaging. Ready to see what they are?
Here we go!
The Different Types of Labels
To make a good first impression, you'll need a label that catches the eye. Keep in mind your packaging design and the color(s) of your product.
Here's a rundown of the types of label material.
Glossy White
Your branding will sit on a white background. This really makes all the colors pop and the text read clearly. It also has a sheen to it.
Matte White
Mostly suited for beauty products, these labels aren't as slick as the ones above. They give a more natural look and feel. There's no shine to them.
Clear
Known for its water-resistant property, these are best used for food and drink products. They'll make the label look like it's part of the actual packaging, rather than just sticking to it. Consumers can see exactly what they're buying.
Weather-Resistant
If you know your product will be placed outside, you'll need a label that can withstand the elements. These labels can endure sunlight, frost, and even chemical exposure.
Choosing Your Adhesive
You want your labels to stick, right? So let's take a look at what type of adhesive is best for your product.
Permanent
This type of adhesive can stick to a wide array of surfaces. They adhere best when the surface is clean and dry. While they do not necessarily hold up to heat and UV rays very well, they hold on tight. Once in place the label cannot be removed without damaging the label.
Removable
Compared to permanent, these aren't as sticky, but they can hold up to extreme weather conditions. Removable labels are designed to be removed without leaving residue and without damage to the label.
Ultra-Removable
Ultra-Removable labels stay in place, but can be easily removed. They typically leave no residue when removed, offering a clean surface with no trace of the label.
Things to Keep in Mind
You need to make sure your label material won't overshadow the rest of your packaging design. Colors should contrast rather than clash.
Text needs to be clear and easy to read. A font that's hard to read will turn most consumers away from your product.
While that's the aesthetic side of things, take into consideration where your product will be placed. If it's a beverage, most likely it'll be placed in a refrigerator. With that said, you need a label that can withstand cold temperatures.
Wrapping Up on Label Material
Choosing the right label material can be difficult. There are so many factors to consider when deciding which one will have the most impact.
Instead of stressing out about it, let us handle what you need.
Request your FREE instant quote today.