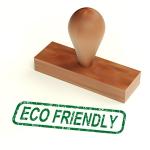 Passion for Earth-friendly Packaging
What defines the millennial generation? Ask 100 people and you'll get 100 answers. Some say millennials are socially responsible optimists. Others state that they're too consumed with digital interactions. Still others find them to be hard workers who have erased some of the boundaries between home and business life. One common thread in overviews of young people today, however, is their interest in things good for both them and the earth. Marketers can make headway with millennials by creating raw, healthful and environmentally friendly brand images.
One of the most effective ways to define a company is to generate a new labeling strategy. If you're in the process of carving out a new identity for your company - or underlining traits that have been there all along - consider working with custom product labels. There's always a chance people will miss an advertisement or decide not to go to your website, but packaging is right in shoppers' line of sight, nigh-inescapable. Brand images that appeal to the earth-friendly interests of young shoppers may prove hugely valuable, especially if you walk the talk and use environmentally kind materials.
Follow the Trends
BrandCulture's Eric Pinckert recently explained for CPI Financial that the quest for more environmentally conscious or responsible brand images is a major 2017 trend. The author noted that minimal packaging and the use of recycled materials in both labels and the products inside the boxes and wrappers will be persistent themes. Truth is the key word here, with millennials and Generation Z interested in ensuring the companies follow through on their rhetoric and actually use materials that keep the earth safe.
The expert noted that transparency will have to be more unfiltered in 2017 than ever before, and the trend will extend to all corners of a company's image. This will have an impact on what should and shouldn't go on labels, as well. Pinckert warned that a lot of text stating that a company is real and authentic could ring false. Instead of just writing out promises, brands will have to follow through and make promises they can keep. Working with truly earth-friendly materials in both items and labels is one example of walking the walk in this way.
Natural, recyclable items are a stark contrast to the mass-produced consumer products of recent decades. Imagine seeing an item with a recycled label, perhaps a product that is itself biodegradable, next to an equivalent in a plastic package that could end up polluting the ocean or staying in a landfill for ages. The choice is clear and, as Pinckert noted, young people may prove willing to pick a more expensive option if its labeled durably.
Design considerations
When dressing your brand up to appeal to young consumers, every single decision can point in an earth-friendly direction. This kind of consistency tends to create an intuitive experience, showing a consuming commitment to being both health-friendly and earth-conscious and marking you as a company that has good intentions. Food Business News reported from the 2016 NACS snack industry trade show, where Lehi Valley Trading Co. Director of Marketing Jacque Taylor described the process of creating a clean, millennial-friendly brand image.
Taylor, in slight contrast to Pinckert, explained that it's important to produce labels affordably enough to keep the cost of food products down - but once you achieve this level of value, it's important to create an image that pleases the audience with natural overtones, from the selected colors to the chosen imagery. Creating a label means summoning a mood, and the more the package evokes nature and wellness, the better it will be with earth-lovers.
"In going into the design itself, we knew, for example, the millennial consumer is looking for natural, eco-friendly. Natural, eco-friendly label design was one of the things we incorporated," Taylor told the news provider.
Working with an Expert Partner
When designing an eco-conscious image, it's important to get the details right and work with a partner that can give you a thoroughly green option while keeping costs reasonable. Lightning Labels can deliver with its multiple recycled label options. Kraft labels, for instance, are made of 100-percent post-consumer waste materials. Their appearance is natural and earthy, and they are tough enough to be machine-applied en masse. Kraft isn't the only option, either - Vellum labels are also made from 100 percent recycled content.
No matter what kind of image you're going for, Lightning Labels can not only get the intended effect at a reasonable cost, it can give you an earth-friendly approach your customers will appreciate. Your products won't just look like they're eco-positive, with the right custom labels they can walk the talk.
Request your FREE instant quote today.