Create Your Own Labels for Candles This Holiday Season
[caption id="attachment_8044" align="alignleft" width="234"]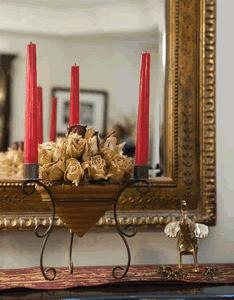 Create your own labels to help sell candles this holiday season.[/caption]
If you create your own labels for candles, consider taking advantage of the sales opportunity the winter holidays provides.
Whether you sell candles in retail stores across the country or at craft fairs and farmers markets, seasonal marketing can help boost your products' visibility in the coming weeks.
Around Thanksgiving, consumers are looking for products that either make great holiday gifts or play a role in festive celebrations.
Christmas candles are a popular purchase this time of year, and with the right labels, you'll see shoppers flock toward your product offerings.
Create Your Own Candle Labels with Top-Quality Labeling Solutions
When you create your own candle labels, you get to decide exactly what they'll look like. Lightning Labels' printing ensures every detail you put into your design is reflected in your labels. Every shade of color is printed clearly, and graphics and text are clean and crisp.
While holiday shopping trends can boost the number of consumers seeking Christmas candles, they also mean greater competition. Your products need to stand out from other candles, and high-quality, professional labels will help them do this.
In addition to offering customizable, industry-leading candle label solutions, Lightning Labels guarantees a speedy turnaround and a fair price. It's not too late to make holiday labels for your candles.
3 Tips for Designing Christmas Candle Labels
No matter the size of your marketing budget, Lightning Labels can help you make eye-catching Christmas candle labels that reel in consumers this holiday season. Here are three ideas to help inspire a unique design for your holiday candle labels:
1. Include Festive Colors and Graphics: Whether you're adding a festive touch to an existing label design or revamping your entire product packaging for the holidays, it's a good idea to incorporate seasonal imagery and colors on Christmas labels.
2. Use Impactful Text: Because candle labels won't provide a lot of marketing space, you have to use them widely. Make sure the wording you choose to include on Christmas candles is strategic; opt for highly descriptive language, but maintain brevity.
3. Boast Your Candle's Best Attributes: Is your candle made from all-natural ingredients? Was it manufactured sustainably or with respect to fair-trade standards? Because this information is important to consumers today, make sure it's communicated effectively on your labels.
Request your FREE instant quote today.