How to Make Product Labels in 3 Easy Steps
[caption id="attachment_7838" align="alignleft" width="234"]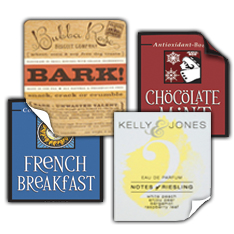 Making custom product labels is easy with help from the experts at Lightning Labels.[/caption]
Making your own labels for products is the best way to create a lasting first impression, an unforgettable way to reach new customers and to keep them coming back for more. With a little help from the experts at Lightning Labels, learning how to make product labels is simple and fun. There are 3 key factors to consider when making custom labels for products:
Product Label Shape: The shape of the label may be determined by the packaging or vessel of your product, based on the space available for labels. Lightning Labels offers many shapes to choose from, including rectangle labels, circle labels, square labels, and oval labels in a variety of different sizes.
Product Label Color: Colors should represent your brand and reflect the product in the packaging. Colors can be determined by time of year, who the product is intended for, and what the product is. Use holiday or seasonal colors or colors that pop! If the label is for a gift, use colors that will mean something to the recipient. Whether you need a custom label printed for a gift or for a line of products, the colors you choose will provide the first impression of your product or gift.
Product Label Copy: Compelling copy is a great way to tell the story of what's behind the label. It should not only clearly state what the product is and how consumers can use it but include some final selling point that seals the deal. Give your customers the impression that you understand them and show how this product - and no other - will meet their needs.
Why You Should Make Your Own Product Labels
Creating your own custom labels makes your products unique. With the right design, no other product on the market will look like yours. Take control of your branding and how consumers view your product by designing custom product labels that are immediately identifiable and that make your competitor's product labels pale in comparison.
Bring your business to the next level and become the default product choice in your industry. Create brand loyalty with a quality product and a brilliant first impression with the best label. Rise above your competitors and into the hearts and minds of consumers who will return to you for years to come.
Lightning Labels uses state-of-the-art digital printing technology to produce orders both small and large at competitive prices. We provide affordable, full-color custom labels and custom stickers of all shapes and sizes, a full line of custom packaging products, and top-of-the-line, personalized customer service. Visit Lightning Labels on the web today for the best prices for high quality, state-of-the-art custom label printing, 100% satisfaction guaranteed.
Request your FREE instant quote today.