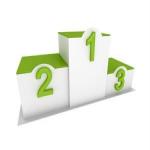 Lightning Labels customers create compelling and impressive looks for their products using the high-quality materials and all-digital printing methods available to them. Each summer, the custom label photo contest gives these marketing experts a chance to show this great work to a wide audience - while also competing for exciting prizes.
Great Photos of Top-Notch Packaging
The product label contest occurs on two levels. Prize-winning entries combine high-quality photography with excellent label design, and will look great displayed on Lightning Labels' website. For the past six years, businesses have submitted impressive examples of their distinctive items bearing custom labels.
In addition to the chance to have their great-looking products displayed to a wider audience, the top five companies will earn valuable prizes. From a 60-inch TV, an Apple Watch and a Polaroid Instant Print Camera to Lightning Labels credit, these rewards are worth striving for.
An Annual Celebration
By bringing customers together to celebrate their creative handiwork, Lightning Labels' custom label contest acts as a tribute to all the amazing uses businesses can find for high-quality packaging. The variety of branding styles supported by Lightning Labels offerings is truly impressive. Multiple materials and finishes can drastically change an item's appeal, and the digital printing process is both efficient and flexible.
Request your FREE instant quote today.