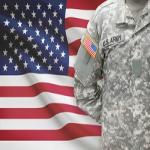 Send a Patriotic Message with Patriotic Stickers
This Veterans Day, you can show how much you appreciate service members' contributions and sacrifices through bold, patriotic stickers. Bumper stickers make an especially good choice, as they are tough and highly visible, and can go on just about any hard surface - not just the bumper of a car. Whether you're producing these stickers to hand out to customers who shop with your business or want them for a party put on by a town government, nonprofit or any other kind of group, Lightning Labels can help.
Great-looking Patriotic Stickers Pay Tribute to Veterans
Patriotic red, white and blue sends a clear message of support for the nation's veterans, and there are numerous designs that can incorporate motifs saluting the troops' service. Veterans Day stickers given out at a business can contain the company's logo or name in small text next to content and images that salute veterans. Custom stickers that serve as part of a town's parade or other celebration can also name the location and year, so people remember where and how they commemorated the holiday this year..
The great thing about opting for bumper stickers as your vehicle for Veterans Day messaging is that they stay strong and vibrant for a long time - provided you work with a good printing service. Chances are, you'll be seeing your stickers around town on cars, laptops, in store windows and on just about any other hard surface. If you use top-quality materials and processes to print a good design, bumper stickers can endure and let the world know that your brand or organization wants to publicly thank military members for their service.
There is room to get granular with the designs on Veterans Day stickers. If you want to salute people who served in a particular conflict or branch of the military, there is room to do so. Towns and cities can pay special tribute to the vets from those locations. Veterans charities can promote their activities through stickers, or hand stickers out to those who make contributions. There is no limit to the number of uses businesses, nonprofits and local government bodies can get out of patriotic stickers.
Order Patriotic Stickers Now
While the fact that November is underway seems to point to it being too late to order stickers for Veterans Day, the advanced all-digital printing techniques in use at Lightning Labels turn buying stickers from a weeks-long process to one measured in days. Lightning Labels uses all domestic facilities instead of outsourcing print jobs, which cuts additional time and cost off of shipping orders to buyers.
On top of the speed enhancements enabled by digital printing, this method also makes it cost-effective to work with small batch sizes. Some companies or organizations may not have any reason to order thousands of bumper stickers. That's all right - with Lightning Labels, even limited-scale orders have low per-unit prices. When it's time to salute former military members on Veterans Day or at any time of the year, attractive patriotic stickers will get the message out.
Request your FREE instant quote today.