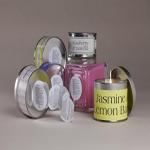 Brighten Your Products with Custom Candle Labels That Catch Eyes at Summer Venues
As vendors of all types prepare their products for the great number of farmers markets that occur during the summer months, it may be high time to consider giving your brand a reboot with custom candle labels. Whether your booth has become an established favorite at farmers markets or you're preparing for your first summer of selling at outdoor venues, your product awareness and sales will likely benefit from a packaging overhaul.
High-quality labels that are both heat resistant and attractive are an easy, affordable and effective way to boost your branding efforts and market your products. Lightning Labels' custom candle labels are digitally printed, meaning they're an economical choice and can be ordered and delivered within a short period of time.
You can choose from a vast array of colors and, because Lightning Labels partners with candle-makers year-round, you'll be working with seasoned professionals who can help you create the perfect design for your products.
3 Tips To Design Professional Candle Labels
After making design decisions, speedy delivery guarantees you'll get your professional candle labels in time for the farmers market season that is already underway. As you think about what exactly you want to place on your custom labels, here are three tips to keep in mind:
Use Labels for Candles to Boast Quality: Labels for candles can serve as your ultimate marketing tactic when reaching out to new consumers. Consider flaunting the ingredients of your candles by incorporating their names and images into your label design. For example, you may include a vine-like border around the label's perimeter or a honeycomb design to demonstrate the natural elements of your brand's wax.
Show Don't Tell On Your Labels: Remember the grade school commandment? Well, it applies to writing effective copy for your product packaging as well. Luckily, digital printing allows you to place small, yet legible print on your products to ensure your message gets across to shoppers. Consider using descriptive language to depict how the candle is the perfect home accessory.
Have a Sense for Scents When Customizing Labels: Sight and smell are intricately linked. Give shoppers a sample of what your candles smell like by evoking certain odors in the description and imagery you include in your packaging.
Request your FREE instant quote today.