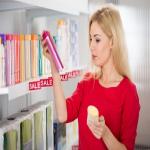 Custom Cosmetic Labels Capture the Trust of Your Audience
When cosmetics are your main product, establishing a trust-based relationship with your customers is an important element of securing your future. After all, customers who abandon your brand after one purchase aren't likely to sustain the company for any significant length of time. You need strong bonds with shoppers, an audience of consumers who feel well-served by your products and will therefore continue using them for years. This is the recipe for reliable revenue, and it can all begin with met expectations.
Go Beyond FDA Requirements
While the FDA does regulate some of the elements of cosmetics labeling, there are terms and promises you can employ without the department's approval. Of course, you should still be very careful with your deployment of these descriptors to ensure a bond of trust persists between you and your customers. Someone who feels misled by the promises on a label isn't likely to come back.
The American Academy of Dermatology recently released a report through Science Daily specifying areas where shoppers may end up feeling deceived by cosmetics manufacturers. Ensuring your brand's bath and body packaging is straightforward and clear in these areas can set you head-and-shoulders above brands that take advantage of the lack of regulation to overuse the terms and deceive shoppers.
For instance, dermatologist Rajani Katta stated in the AAD article that there is a glut of current brands using the term "all-natural." She added that this is not a meaningful descriptor in skin care, as there are plenty of elements that come from nature but don't help the body at all. Furthermore, combining basic ingredients with preservatives is a common practice in the beauty product field. If consumers catch on to brands deceiving them with such labels, they may become jaded. Your options with this label include using it only when it's absolutely truthful or simply avoiding it as overuse saps it of meaning.
Katta added that when products say they are suitable for sensitive skin, there is no authority forcing them to prove this. In the absence of an FDA rule, your bond with customers should guide your use of such claims. If you place such a promise on a cosmetic product that then goes on to aggravate skin, you could lose the trust of consumers.
What the FDA Can Regulate
The fact that there are cosmetics brands taking liberties with labeling is worrying, as it may lessen trust in the bath and body industry as a whole. The agency isn't completely toothless, however. In late 2016, law firm Shook Hardy and Bacon LLP released a Lexology article about a wave of warning letters issued by the FDA to counteract dishonest use of claims on beauty product labels.
It's interesting to see what types of marketing copy are unacceptable under current guidelines. For instance, the warning letters made a point of targeting brands that boast about the "age defying" nature of their products. Furthermore, items that claim to minimize lines, wrinkles and spots on skin received letters. Medical claims are also shaky ground: Companies that say their offerings can regenerate tissue, produce collagen, act as a surgery alternative or provide other healing and anti-inflammatory benefits have been given warnings.
The law firm explained that the line between beautifying agents and medical products is the current boundary for the FDA's authority. The agency is becoming aggressive about items that claim to be the latter, with enforcement seemingly more strict than in the past. Companies that walk this line should ensure they aren't overstepping their authority.
Custom Cosmetic Label Excellence
When creating bath and body packaging, the content is only one element to think about. You also have to consider the physical quality of the labels, paying heed to resolution, materials and finishes. If you work with substances that aren't strong enough to withstand storage in consumers' bathrooms, your items' packaging may end up worn down, with your carefully designed logo unrecognizable by the time consumers have used up the products and are ready to buy more. The way to avoid this fate, and to combine high-quality imagery with tough and attractive labels, is to work with a third party such as Lightning Labels. Lightning Labels offers a wide variety of waterproof materials and finishes that will keep your accurate and compelling bath and body product labels looking great, no matter where customers store the items.
Request your FREE instant quote today.