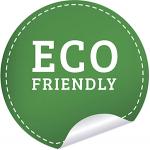 Give Customers an Earth-Friendly Option With Recycled Labels
While there's never a bad time to care about the health of the planet, April 22 is an especially apt moment. This is Earth Day, set aside to celebrate the planet and protect nature whenever and however possible. People will be looking for ways to show they care about keeping the environment healthy, and if your products are wrapped in eco-friendly labels, you'll have a head start on the competition. In the lead-up to Earth Day, you can team up with Lightning Labels to put a more naturally friendly face on your items.
Recycled Labels Add the Finishing Touch
Recycled labels made out of responsibly manufactured materials are especially critical for companies that celebrate good causes or promote conservation. If your business stands for protecting the earth, labels that seem to synthetic may create cognitive dissonance. You want every element of your products to be in line with your values, and that extends to the labels. Lightning Labels offers four different eco-friendly materials, so when it's time to place an order for custom recycled labels, consider using one of the following:
• Kraft Labels: These labels give your products an "earthy" feel, as they are made out of paper rather than harsh-seeming polymers. They are produced from 100 percent post-consumer waste for a minimal impact on the environment. Keep in mind that these labels are not laminated - products that have to stand up to oil and water should use another of our materials.
• Vellum Labels: Like Kraft Labels, our Vellum offering is not laminated and is made from 100 percent recycled materials. Between these two options, you can get specific about what you want the texture and feel of your labels to be, while sticking to an all-recycled policy.
• Biostone Labels: These ingenious labels reject both polymers and paper - there are no tree products included in them at all. They are really made out of stone! These labels, like the above, are non-laminated.
Time to Celebrate
Taking a more earth-friendly approach to your labeling in time for Earth Day may seem like an impossible goal for this year - after all, April 22 is just around the corner. However, when you're working with Lightning Labels, extreme speed is part of the deal. Lightning Labels works from domestic facilities instead of outsourcing its operations and employs all-digital printing methods. This means turnaround times and minimum order sizes are low.
When your products and image revolve around a love for Mother Earth, having a label that isn't eco-friendly could raise doubts. Put customers' minds at ease while helping the planet by using one of Lightning Labels' four natural label materials. These are the perfect finishing touch for a responsible modern brand.
Request your FREE instant quote today.