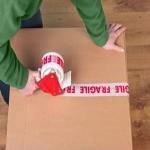 Labeling a breakable package "fragile" is an essential part of getting it to its destination in one piece. It's also a subtle opportunity for branding if you opt for custom handle-with-care labels instead of generic options.
In an era of increasing e-commerce, specially designed fragile labels are one way to make your brand's products attractive and distinctive on customers' doorsteps.
Custom Fragile Labels Add Distinctive Flair
Ordering products online has become such an easy and convenient option for shoppers that it could rightfully be called the new default. When consumers buy from your company, you're in control of the experience they have, and their level of satisfaction may determine whether they come back. Customized fragile shipping labels add professionalism and brand recognition, while showing that you care whether items arrive safely.
Think about the top e-commerce brands such as Amazon and Walmart. They each have distinctive visual branding on the packages they send. Operating in an era of direct sales doesn't have to mean giving in to bland or neutral visuals.
An Easy Investment
Branded fragile handle-with-care labels aren't difficult to add to your products. With Lightning Labels on your side, you can get tough and attractive custom fragile labels quickly, with sharp imagery matched with a material of your choice.
Request your FREE instant quote today.