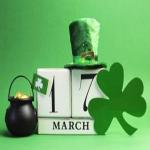 When St. Patrick's Day rolls around, there's plenty of imagery for brands to latch onto. Custom St. Patrick's Day shamrock labels can draw eyes during the early days of March, and hopefully some of those shoppers will stick with the brand year-round.
If your product is craft beer, custom shamrock labels can be a great way to position your brand as the pint of choice for St. Patrick's Day parties. Making the decision to go with a bold labeling strategy can help your items stand out against competing brands that don't vary their look for the holiday.
Branding with Custom Shamrock Stickers and Labels
There are a few ways to bring St. Patrick's Day design elements into your beer marketing strategy. If you have a spring seasonal beer on the way, you can give that variety an all-green look. You can also create limited-edition packaging for one of your year-round brews using custom beer labels, encouraging people to pick your brand for their seasonal celebrations.
Even if you don't change the packaging of your beers, St. Patrick's Day stickers make great giveaways, using a combination of seasonal imagery and your brand's logo to promote your products. Winning over customers during seasonal parties could be a way to keep customers loyal year-round, provided your beer makes a great impression in March.
Custom Shamrock Labels Fit for the Job
When acquiring seasonal labels and stickers to make your St. Patrick's Day product offerings look great, it pays to select a third-party partner capable of quick turnaround times while maintaining high quality. The sooner your seasonal items get on the shelves, the better chance they'll be picked by customers planning ahead. Lightning Labels, using all-digital printing processes and operating domestically rather than outsourcing production, can deliver your custom labels quickly and efficiently.
No matter what kind of finish looks best with your brand's logo and seasonal pictures, Lightning Labels can deliver it, from gloss to matte to an old-fashioned paper feel. The tough labels will stay clear in cold, wet refrigerator case conditions, looking great for customers.
Request your FREE instant quote today.