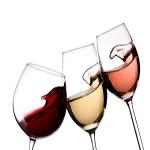 Order Custom Labels and Stickers to Celebrate Special Events
Warm weather isn't the only reason to celebrate in the coming months. As the school year comes to a close, students across the country are trying on caps and gowns in preparation for graduation. Meanwhile, spring and summer are popular seasons for wedding planners. If you're getting your diploma, tying the knot or celebrating a different occasion, consider adding a personalized touch to the festivities with beverages, candy and party favors all adorned with custom labels and stickers.
People are constantly looking for new ways to add a special touch to their events. Whether they're planning a bar mitzvah, baby shower, sweet 16 or corporate gathering, event hosts will find that custom labels for water and wine bottles, food items and other party elements add an extra level of detail and pizzazz to every occasion.
3 Ways To Celebrate your Event With Custom Product Labels Not quite sure how custom product labels fit into your festive event? Check out a few ways you can customize packaging for beverages, food and party favors to add a personal element to your celebration.
1. Custom Beverage Labels Give Wedding-Goers an Extra Reason to Clink Glasses Custom beverage labels for wine and champagne bottles are popular choices for couples planning their big day. Many brides and grooms opt to place their names and the wedding date on the bottles of bubbly or wine served at the reception to add a personal element to every pour, toast, cheer and sip throughout the event. Because Lightning Labels uses digital printing to create high-quality stickers and labels, couples can incorporate the theme of their wedding invitation or symbols of their favorite sports team or a shared passion onto each bottle. The possibilities are limitless!
2. Turn Food and Beverage Items Into Event Mementos with Custom Labels For themed events like bar and bat mitzvahs, anniversary parties or holiday celebrations, consider adding candy and beverages wrapped in customized packaging to personalize the event. The color options provided by digital printing range far and wide, and you can add high-quality images to any sticker or label, making an otherwise mundane water bottle or candy wrapper an event keepsake guests can take home.
3. Promote Your Brand with Custom Bottle Labels Corporate events like conferences or product launches can be enhanced with the simple addition of personalized water bottles. These spread your brand name among attendees and add an element of sophistication to the event.
Request your FREE instant quote today.