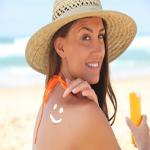 Australian Gold Increases Sales with Custom Packaging Stickers
By redesigning its custom packaging stickers, skin-care company Australian Gold has seen a boost in sales. According to Packaging News, the company's sales increased by 5 percent after revamping its Moisture Max SPF 30 product to conform to updated U.S. Food and Drug Administration (FDA) sunscreen guidelines. The new FDA regulations for sunscreen labeling requires all products with SPF to clearly show how much protection they offer to avoid any confusion for consumers.
Size of Labels for Bath and Body Care Make a Difference For Australian Gold, the new rules afforded the opportunity to see what customers preferred when purchasing skin-care products.
Kerry Gould, president of Trade Partners Consulting, thought the ability to talk with consumers directly influenced the increase in sales.
"Hands down, [Australian Gold's] 'Curvy' is a winner," Gould told the news source. "We spent hours with shoppers in-store, talking to them and observing behavior at shelf during the height of sun-care season in Florida. Australian Gold 'Curvy' scored high on every research measure we tested - preference, purchase interest, eye appeal and 'pop' on shelf. Shoppers noticed and appreciated the extra information the larger 'Curvy' label offered."
Request your FREE instant quote today.