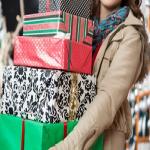 Holiday Gifts for Employees Can Add Up
With November already upon us, many people are scrambling to buy holiday gifts for their friends, family members, coworkers and others in their lives. This includes businesses as well - they realize that recognizing their employees for a year of hard work has real benefits, and so many purchase presents for employees as a way of rewarding them.
Credit.com noted the average business spends $75 per employee during the holidays for parties and gifts, but that figure has the potential to balloon out of control if firms get too swept up by holiday cheer. At the end of the day, organizations do not need to spend a boatload on gifts for employees, but going the extra mile and giving them something special can make a world of difference.
Custom Stickers Do Not Have to Be Expensive Projects
One way brands can give employees something to remember is by utilizing custom stickers. By replacing product labels and stickers with a personalized version, companies can make their gifts more unique.
For example, instead of giving workers a chocolate bar with the regular wrapping, perhaps offer up a custom label with their picture or name. Businesses could even include a personalized message, commending them for a specific task done earlier in the year or simply appreciating them for their continued hard work. This makes a seemingly normal gift more meaningful and can add a sentimental edge.
Of course, a candy bar is only one example. Businesses could also use custom labels and stickers on other products, such as bath soaps, wine bottles and water bottles. The key is personalizing these products with messages and imagery, all while utilizing the company's branding as well.
Holiday Stickers Add More Flair to Gifts
If companies want to go all out for their gifts, they could even use holiday stickers to add another layer of flair. In addition to personalized content, holiday-themed imagery such as snowflakes or wrapped presents could be added. This shows recipients that companies did not simply dig some branded merchandise out of the closet and give it to them as a gift.
Regardless of which approach brands want to take, the key is making a meaningful gesture toward employees. Even the small things count when it comes to making workers happy.
Request your FREE instant quote today.