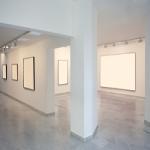 UGLY Uses Custom Stickers in Art Campaign
An art gallery is using custom stickers in a unique way - in a promotional campaign. According to The Artery, an art community site, the UGLY (U Gotta Love Yourself) gallery has adopted an initiative that uses stickers to showcase graffiti and fine art. The program displays altered stickers, many of which were free from U.S. post offices, either by themselves or in groups. The Artery reported the original art show's stickers are being embraced by the art community as a new way to display beauty.
The UGLY Gallery created the USPS, or U Send Postal Stickers, campaign as a fundraising method but also to display hip-hop culture next to the fine art world.
Promotional Stickers Employed for Unique Beauty Advocacy  According to The Artery, approximately 50 artists sent in promotional stickers for the campaign from as far away as Germany and Australia.
David Guadalupe, co-founder of the gallery, told The Artery that stickers as an art form are rising in prominence among the creative community.
"It's only through the last year that we've noticed how giant - it's still underground - how giant the [sticker] scene is," Guadalupe said. "They'll put some art on a postal sticker and then put them up wherever. There's also a giant trading scene."
Request your FREE instant quote today.