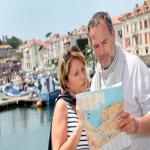 Maps Highlight Hidden Local Gems on Custom Stickers
Maps are a tourist's best friend, and now, so too are custom stickers. At least that's applicable in Taipei, where local officials have launched a new campaign aimed at boosting tourism by providing sightseers with sticker maps to use while visiting the Asian city.
The Taipei city government's Department of Information and Tourism kicked off the initiative by introducing its Taipei Design Map, a set of five free stickers that double as maps of the city's layout. The maps were also created to publicize favorite local establishments and landmarks tourists might not know about and feature designer clothing stores, boutique hotels, eateries and various attractions. Maps are available at the city's 12 tourist information centers in both English and Chinese.
Put Customized Stickers on Luggage, Notebooks According to the Taipei Times, Chao Hsin-ping, department commissioner, said the customized stickers were developed by a local collective of tour guides, graphic designers and advertisers.
"We hope the map stickers will encourage tourists to explore the city's special shops and spaces which feature great designs, but which are tucked away in small alleys away from more popular attractions," she told the newspaper.
Sticker creators said tourists can place the maps on their suitcases and notebooks for easy use, as well as being a memento of a vacation. Chao also said tourists can mark up their sticker maps for future reference or in case they find a diamond in the rough among Taipei's businesses.
Request your FREE instant quote today.