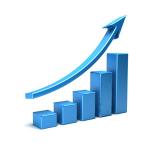 Stickers: An Eye-catching Form of Branding
When you want your brand's logo and message to reach a wide audience, custom stickers may be the medium you're looking for. Stickers can take many forms - bumper stickers, window stickers, small stickers to attach to your products on the shelves - but the concept is always the same. These are a way to bring your company's visual identity out into the world and catch people's eyes.
Pick What's Right For You
"Quick turnaround times and low minimum order amounts mean you can experiment with different sticker types."
There's no wrong way to promote your company through stickers, but the following are a few particularly likely ways to make your campaign successful. Keep in mind that you don't have to try just one idea - Lightning Labels' quick turnaround times and low minimum order amounts mean you can experiment with different sticker types in rapid succession, all without breaking the bank.
Bumper Stickers: The name "bumper sticker" can be deceptive. These aren't just for cars. When you order bumper stickers for your business and hand them out to customers, those recipients can stick your logo on a variety of surfaces. Think of these as tough and sizable stickers that can appear all over town, bringing your company's logo, slogan or contact information wherever they go.
Window Stickers: Sometimes, business stickers aren't meant to be hand-outs. When you buy window stickers, you can stick them around your store or office. They can contain information such as your hours of business, which payment types you accept and any seasonal sales that are going on, all with a branded flair that will make your brick-and-mortar location more visually interesting.
Product Stickers: Stickers for products have a special role in any branding strategy. They can add information that makes items more compelling or relevant, potentially tying them in with temporary promotions or sales. Adding a little seasonal flair is a great reason to add stickers to your items. You can also promote features or simply point out a new offering.
No Reason to Hesitate
When you order business decals or stickers from Lightning Labels, you're signing up for great service and the convenience enabled by all-digital operations from domestic facilities, rather than outsourcing. This means quick turnaround times, putting your new business stickers in your hands within days rather than weeks or months.
Whether you're jazzing up your retail stores, creating a new line of bumper stickers to pass out or printing a run of seasonal decals for your products, you can get started in your new project right away. There's no reason to delay!
Request your FREE instant quote today.