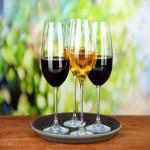 Grocery Chain in UK to Add Calorie Information to Custom Wine Labels U.K.-based supermarket chain Sainsbury's will start to include calorie content on its custom wine labels. The store conducted a survey that found that 85 percent of consumers in the country aren't aware of the number of calories in a glass of wine, Daily Mail reported. According to the charity Drinkaware, a 250 ml glass of wine with 13 percent alcohol by volume can contain about 228 calories. That's roughly the same as a serving of ice cream or fish fingers, the news source said. Beginning in early February, the chain will begin a new wine bottle label printing campaign in which they will inform consumers of the calorie content in a 125 ml glass of wine.
Store Enhances Personalized Wine Bottles With Calorie Information The same survey from Sainsbury's found that 66 percent of consumers wanted to know how many calories were in the wine they were drinking, leading to the chain's new personalized wine bottles, according to British news source The Telegraph. The initiative is part of the grocery store's effort to promote healthy choices for consumers, a move that England's Public Health Minister Jane Ellison also supports.
Request your FREE instant quote today.