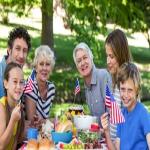 Hosting an Event? Use Custom Stickers and Labels for Visual Flash
Memorial Day has two different personalities - it's a solemn remembrance of military members who have given their lives for their country and a time for friends and family to spend a fun spring weekend together. When you plan a party for Memorial Day weekend, whether for a large family group, town or company, you can fuse the themes of fun and patriotism with custom American flag stickers and labels.
Different Types of Gatherings
There's more than one way to spend Memorial Day, and a great weekend event can be organized by a town, sponsored by a company or simply set up for a reunion or family gathering. No matter what type of celebration you're thinking of, there's a case for custom decorations such as American flag stickers to give the whole thing a patriotic flair.
• Organizers of parades, fairs or other major gatherings for Memorial Day weekend can use patriotic stickers of all shapes and sizes to decorate their parks and public spaces. Alternately, free stickers can be giveaways for members of the crowd, allowing them to show their spirit. Whether you work for the town itself or a company stepping in to help with the event, you can use American flag labels on items such as bottled water to add another festive dimension to the parade, picnic or fair. These labels can even have the town's name or seal along with the American flag motif to act as a symbol of local pride.
• If you're working on a family reunion or group trip, you can still incorporate custom stickers and labels, either handing them out on their own or putting them on water bottles. It may seem that a family outing, even a sizable one, is too small to warrant custom labels. However, all-digital printers such as Lightning Labels offer low minimum order sizes, meaning there is an easy and affordable way to create the labels or stickers your group will love. Bottles or stickers can be taken home as souvenirs of a Memorial Day weekend spent in the company of loved ones.
Celebrations Throughout the Year
If you have a great experience using custom stickers at your Memorial Day event, the obvious next question is what other get-togethers could be livened up with custom labels on water bottles or bumper stickers to hand out to attendees. Sticking with the theme of patriotic stickers, Independence Day is only a few months away. States, cities and towns also have their own local commemorative days throughout the spring and summer months that could play host to a great picnic or parade. Working with Lightning Labels is so easy and rewarding that it's natural to imagine collaborating on more events throughout the year. Lightning Labels' domestic facilities and all-digital processes ensure remarkably short turnaround times and low minimum orders. This means that even with a holiday almost here, you can still commit to getting great patriotic stickers or labels. Celebrations with excellent, consistent looks are right around the corner.
Request your FREE instant quote today.