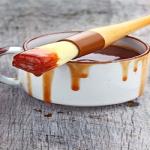 BBQ Sauce Labels Provide A Bold New Look
When you produce barbecue sauce, marinade and hot sauce products, you add the spice to your customers' meals. But if the BBQ sauce bottle labels for those items are bland or unmemorable, it harms your ability to convince shoppers to give your brand a try. There's no better time than National Barbecue Month to take a look at your sauce line and determine whether an exciting new look could be just what it needs to win people over.
Adding New Elements
There isn't just one way to improve BBQ sauce labels. In fact, just about every element of the graphic design can be tuned up and improved dramatically if you focus. As long as you work with a labeling provider that is able to realize your new ideas, you're free to get creative and update your food labels for maximum audience appeal.
It's the dawn of cookout season, so a potential sales boom is right around the corner. Here are a few particular graphic changes you can employ to catch aspiring backyard chefs' eyes:
• Useful recipes: Maybe people are hesitant to buy a sauce or herb rub if they aren't sure how to use the flavoring. Putting simple directions and suggested ingredients on the package takes away that uncertainty. If you work with a producer of high-quality labels, it will be easy to print the necessary amount of text on the label without it getting blurry.
• Exciting graphics: BBQ sauce and hot sauce are sold on bold personality. You want to communicate to buyers who have never tasted your product that they'll enjoy it, and give them a sense of how it tastes. You can boost your brand's appeal via colorful imagery that evokes a flavor and potentially uses regional symbols to celebrate your local surroundings.
• Seasonal content: You can remind shoppers that it's National Barbecue Month - or just that summer is coming up and it's a great time to grill. Changing elements of your packaging every few months keeps things fresh, and as long as you work with a printer capable of producing reasonably sized orders, you can execute this strategy without waste.
Reach Your Audience
Sauces and other BBQ essentials aren't the kind of products that receive media-blitz ad campaigns. The in-store experience, when someone is browsing an aisle, is your chance to make the case for your brand. Your labels are the part of the package that sets your items apart from the rest of the field. Custom hot sauce labels, BBQ sauce labels, spice rub packages and more act as your company's calling card. It's up to you to take the design challenge seriously.
Once you have a good idea of how you want your labels to look, it's time to find a third party that can turn that vision into reality. Lightning Labels can fulfill that function, with its all-digital processes enabling affordable, short print runs as well as remarkably quick turnaround times. Any new ideas you put onto your BBQ sauce labels in celebration of National Barbecue Month can become physical items in a matter of days, not weeks or months.
Request your FREE instant quote today.