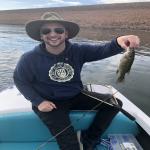 Lightning Labels Account Manager John Yost has a big smile. It's a symbol of his joy at work, love of life outside work, and the good year he had in spite of a pandemic.
Prior to joining Lightning Labels in June 2019, John worked as a logistics coordinator for a trucking company and as an analyst for marketing operations at a telecom company.
His happiness at work is fueled by engaging with product label customers. He notes, "My favorite parts of working here are the customers and how dynamic the job is. Every day is different and you never know what to expect. It keeps things interesting and makes the days go by quickly. I love engaging with the customers as well. I have a large customer base and keeping them all happy is a challenge but is also very rewarding. I love partnering with them and seeing their businesses grow."
When not at work, John revels in the great outdoors. He says, "In my free time you'll find me camping, fishing on my boat, riding my dirt bike, having a beer on a patio, or going to sporting events (before COVID). I used to go to quite a few games and I support all the local teams." He also enjoys time spent with his mom and a cat named Cali; as well as seeing his brother and family in Florida as often as possible.
Rounding out John's leisure-time pursuits is a "really close group of friends. We all live very close to each other, which is great because of how uncommon that is at our age. We can literally walk to each other's houses."
Despite unprecedented challenges created by a pandemic, economic woes and socio-political upheaval in 2020, John kept a smile on his face. He emphasizes, "I had a great year in 2020. My job is going great, I'm getting ready to buy my first home, and things are going really well! My friends being so close to me has definitely helped out."
He adds that the new normal has proven interesting, and that what he misses the most is summertime Rockies games. "You have to get creative! My friends and I who used to play poker in person have started playing online and using Zoom to interact. It works pretty well! I've purchased a stationary bike to exercise at home along with lifting free weights. I also run when it's warmer and try to be as active as possible."
John used to volunteer at a nursing home where his love of poker was on display front and center. "I ran poker night for them. It was a rewarding experience and was really fun. I'd do it again."
For John Yost, the 1988 song "Don't Worry, Be Happy" by musician Bobby McFerrin truly applies to his happy way of living.
Request your FREE instant quote today.