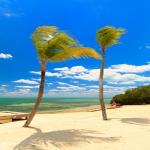 Bumper Stickers Encourage Local Tourism on Florida Island
Residents of Anna Maria Island, situated off the west coast of southern Florida, are using bumper stickers to spread awareness of the economic benefits of welcoming non-resident visitors to local beaches. The customized stickers feature the wording, "AMI Day Tripper."
In an interview with The Bradenton Herald, Debbie Pinkley and Charmian Miller explained the customized stickers started out as a joke and evolved into a campaigning tool to encourage local officials to adopt measures that promote tourism.
Car Bumper Stickers Aim to Clarify Residents' Stance on Day Visitors Miller told the newspaper the initiative to encourage local tourism with car bumper stickers began after she read a letter to The Herald stating Mayors SueLynn of Anna Maria Island and Carmel Monti of Holmes Beach wanted to limit access to local beaches to residents.
SueLynn stated she was misquoted, explaining she was hoping to spread awareness of the need for visitors to respect the beaches and city regulations.
Meanwhile, in hopes of encouraging tourism on the island, Pinkley and Miller are selling the 'Day Tripper' stickers for $3.
Request your FREE instant quote today.